Norway Declares Crisis in Oil Industry as Devaluation Continues
With oil dropping below $30 a barrel, producers in western Europe's biggest crude exporting nation are now considerably worse off than they were in the darkest hours of 2008.
Norway's oil "industry is in a crisis now, we can't deny that," Bente Nyland, director general of the Norwegian Petroleum Directorate, told Bloomberg.
The krone lost 0.8 percent against the euro as of 9:58 a.m. in Oslo, with crude oil down about 2.8 percent.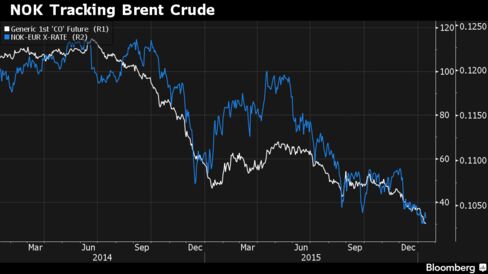 Nyland says there's a tendency for oil companies to prioritize short-term earnings rather than "long-term value creation," as prices continue to fall.
But the government is ruling out further stimulus. Finance Minister Siv Jensen says budget proposals put forward last year already contain "a lot of expansion" and will help stem job losses. The administration is now pegging its hopes to a currency devaluation that has tracked oil's decline and helped exporters in other industries. It's also stepping up its reliance on its $805 billion wealth fund -- the world's biggest -- to deal with budget holes.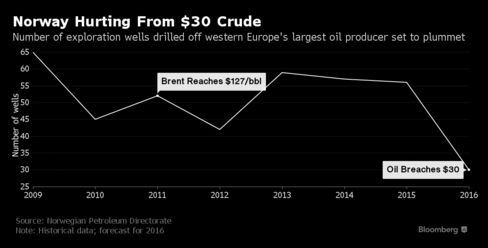 "The financial crisis was nothing compared to this," said Teodor Sveen Nilsen, an analyst at Swedbank. "Exploration activity will drop. It's not good for Norway and not good for the Norwegian shelf."
The question is how quickly the economic adjustment brought on by a weaker krone will manifest itself. Though Nyland says activity is still high, the petroleum directorate on Thursday predicted a 10 percent drop in oil investments this year, with continued spending declines every year until 2019. The country's biggest producers, led by Statoil ASA, have cut thousands of jobs as the industry looks for ways to stay profitable.
Norway depends on oil and gas for about one-fifth of its economic output and nationwide, the petroleum industry has cut almost 30,000 jobs. The price for the benchmark Brent oil blend reached a 12-year low of about $29.73 a barrel this week, compared with a June 2014 high of $115. The krone has lost 30 percent against the dollar over the same period.
"The krone is fluctuating and I think it's part of the mechanisms that are actually working," Jensen said. "The krone is often correlated with the oil price and even though a lower oil price represents a problem to the oil and gas industry, the krone now represents improved competitiveness for the rest of the Norwegian industry."
The approach may well prove successful. Nordea, Scandinavia's biggest bank, notes that, while unemployment is rising nationwide, it's falling in those parts of Norway that aren't dominated by the oil industry. The bank says a weaker currency, the buffer provided by the wealth fund and low interest rates are all working together to prevent Norway from sinking into a recession.
"The total effect on the economy then depends on the spillover we see to other sectors," said Gaute Marius Langeland, chief analyst at Nordea in Oslo. "But this is being counteracted by a number of excellent shock absorbers."
Before it's here, it's on the Bloomberg Terminal.
LEARN MORE