China Wants a Reserve Currency and Control, But Can't Have Both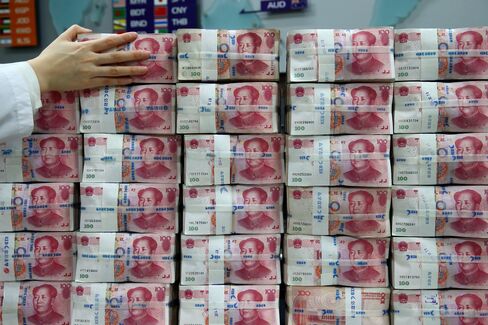 PBOC has to accept others can have a say in pricing: Rabobank

Central bank intervention drives yuan loan rates to record
This week's unprecedented surge in the cost of borrowing yuan in Hong Kong is putting a spotlight on one of China's biggest policy dilemmas: whether to create a real international reserve currency, or to keep control of its value.
The cost of maintaining control came to the fore on Tuesday as interbank lending rates in the city jumped five-fold to a record 66.82 percent, a side effect of central bank intervention to combat the yuan's slump to a five-year low. Such efforts to influence market pricing are untenable if China wants to develop active offshore markets for financing and trade in the currency, according to Rabobank Group and Royal Bank of Canada.
"These measures are sustainable if China has no desire to internationalize the currency, but it wants to be a reserve currency," said Michael Every, head of financial markets research at Rabobank in Hong Kong. "It will have to accept that other holders of the offshore yuan can have a say in its value."
For Every, the most likely outcome is that China will give in to market forces and let the yuan weaken by another 13 percent this year, a view that puts him at the bearish end of strategist forecasts compiled by Bloomberg. Pressure to free up the exchange rate has increased after the International Monetary Fund said the yuan will join its basket of reserve currencies in October and policy makers pledged to decrease capital controls by 2020 -- a key step toward yuan internationalization.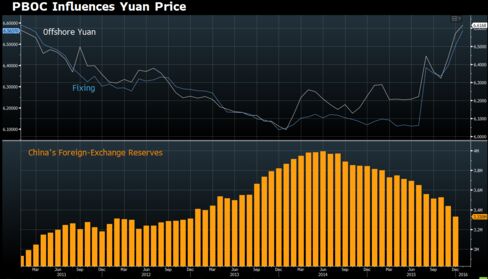 The PBOC's actions in recent days suggest they're not ready to loosen their grip. While the central bank has said its daily reference rate for the yuan is largely determined by market pricing, analysts say the fixing has differed from what the monetary authority's methodology suggested it would be. The PBOC has repeatedly bought the yuan in Hong Kong this week, soaking up supply of the currency, and China's foreign-exchange regulator was said to verbally instruct some banks operating in the mainland to limit yuan outflows and reduce offshore liquidity.
Those measures have succeeded, at least temporarily, in propping up the currency and converging the yuan's onshore and offshore rates. But the intervention has also dented investor confidence.
Think Twice
If such policies are sustained, China "will almost surely end any chance of fulfilling its ambition of having an internationalized currency by 2020," said Sue Trinh, the Hong Kong-based head of Asia foreign-exchange strategy at Royal Bank of Canada. "It would be an abomination for a reserve currency to have strict capital controls. Many investors will think twice before participating in a market where you may not be able to get out when you want to, and where the central bank puts your capital at risk by routinely shifting the goal posts."
Chinese officials attempted to soothe frayed nerves this week. Betting against the yuan will fail and calls for a large decline are "ridiculous" as policy makers are determined to ensure stability, Han Jun, the deputy director of China's office of the central leading group for financial and economic affairs, said on Monday in New York. Pressure on the yuan is expected to ease, Ma Jun, chief economist at the monetary authority's research bureau, said in comments posted on the PBOC's website the same day.
Slowing Growth
China will seek to increase the yuan's convertibility in an orderly manner by 2020 and change the way it manages currency policy, according to the Communist Party's five-year plan. The authorities will opt for a "negative list" foreign-exchange system -- an approach that lets companies do anything that's not specifically banned -- and open up the finance industry.
Policy makers may be willing to hit the pause button on currency reforms to prevent a tumble in the yuan from destabilizing the economy, according to Tim Condon, head of research at ING Groep NV in Singapore.
Gross domestic product will probably expand 6.5 percent this year, the slowest pace in more than a quarter century, according to a Bloomberg survey of economists. Increasing capital outflows since an Aug. 11 yuan devaluation have hampered efforts to boost growth. About $508 billion of capital left China in the August-November period, according to a Bloomberg estimate that takes into account funds held in dollars by exporters and direct investment recipients.
FX Reserves
The yuan has fallen 5.7 percent in Shanghai since the devaluation, even as the central bank burned through $321 billion of its foreign-exchange reserves supporting the currency over the last five months. The stockpile was $3.33 trillion at the end of December. Yuan positions at China's central bank slumped by 708.2 billion yuan to 24.9 trillion yuan ($3.8 trillion) last month, suggesting increased intervention to support the yuan as well as rising capital outflows.
"China will take one step backward this year in economic reforms and the opening up of its capital account by resorting to command and control policies," Condon said. "The authorities need to take what looks like a retrograde step in order to hit their economic targets for 2016, by drawing the line at $3 trillion of foreign-exchange reserves, avoiding a large yuan depreciation and getting interest rates down to support growth."
— With assistance by Tian Chen
Before it's here, it's on the Bloomberg Terminal.
LEARN MORE