Bank of Korea Cuts Growth, Price Forecasts on Instability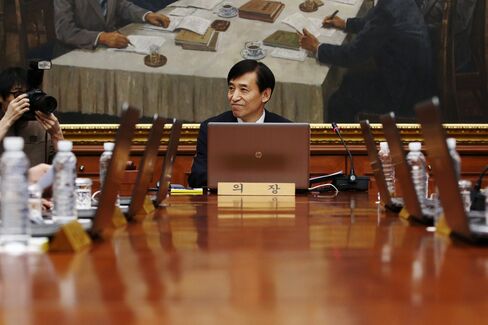 GDP forecast for 2016 cut to 3 percent from 3.2 percent

Prices to rise 1.4 percent this year, below 2 percent target
The Bank of Korea cut its forecasts for economic growth and inflation and held its key interest rate at a record low as instability from China reverberates in global financial markets.
Governor Lee Ju Yeol faces the task of spurring inflation to a new 2 percent target and shoring up the South Korean economy as exports decline. Adding to the challenges, the BOK now has less room for further monetary easing, with household debt at record levels and greater risk of capital outflows as the U.S. raises interest rates and instability increases in China.
The seven-day repurchase rate was left at 1.5 percent for a seventh month, as projected by 15 of 16 economists in a Bloomberg survey. Today's decision was unanimous, Lee said at the press briefing.
"The BOK's revised 3 percent growth forecast is still optimistic compared with what private economists see," Yoon Yeo Sam, a Seoul-based fixed-income analyst at Daewoo Securities Co. said. "We continue to forecast a rate cut in the first quarter, likely March, as inflation will also remain far below target."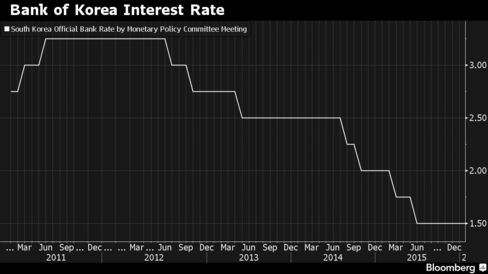 The BOK lowered its inflation projections for 2016 to 1.4 percent today from October's 1.7 percent. Lee said he disagrees with the view that rates need to be cut when the outlook is lowered, and said the new price target is a mid-term, not short-term goal.
The bank's gross domestic product estimate for 2015 was cut to 2.6 percent from 2.7 percent.
The BOK said in a statement after the rate decision that economic sentiment has "not improved," and said uncertainties surrounding the growth path are high. The central bank also noted that inflation is expected to remain "considerably short" of the target for the time being.
A recent sell-off in Korean equities by foreign investors triggered by China's slower growth weakened the won to a more than five-year low this week. While the weaker currency may have some benefits for exporters, a disorderly move in the financial market hurts investor sentiment and can disrupt corporate business plans.
There is also concern that foreigners may reduce their holdings of Korean bonds as longer-term sovereign debt is yielding less than similar maturity notes in the U.S. Korea's 10-year government bond yield was 2.02 percent as of 12:14 p.m. in Seoul, compared with 2.08 percent for Treasuries of similar maturities.
Lee said capital flow volatility will remain large for now on China instability, Federal Reserve policy, and oil prices, but Korea will be differentiated from other emerging markets. The won weakening along with China's yuan is "inevitable" considering the two countries' close relations, Lee said. China is the nation's largest trading partner.
In a Dec. 11-16 Bloomberg survey, 10 economists expected at least one rate cut this year while four forecast an increase. Twelve saw no change in the 1.5 percent rate.
Before it's here, it's on the Bloomberg Terminal.
LEARN MORE