Six Ex-Barclays, Deutsche Bank Traders to Stand Trial in 2017
Trial scheduled for September 2017 by London judge Wednesday

Five other defendants in case yet to appear in U.K. court
Six defendants accused of conspiring to manipulate a key interest-rate benchmark while working at Deutsche Bank AG and Barclays Plc will stand trial in September 2017 in a London court.
Former Deutsche Bank trader Christian Bittar and one-time colleague Achim Kraemer, as well as ex-Barclays employees Philippe Moryoussef, Colin Bermingham, Carlo Palombo and Sisse Bohart appeared in court Wednesday in front of Judge Nicholas Loraine-Smith. All six are scheduled to enter pleas in December.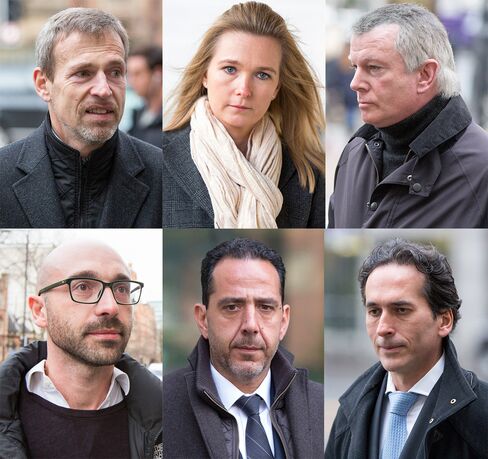 The group is among 11 traders accused of conspiring among themselves and with other bank employees between Jan. 1, 2005, and Dec. 31, 2009, to "procure or make submissions" in relation to the euro interbank offered rate that were false, according to court documents. They are the first to face charges globally in relation to Euribor, the euro counterpart of the London interbank offered rate. A number of former traders are facing prosecution for allegedly rigging Libor.
The other five defendants in the Euribor case worked at Deutsche Bank and Societe Generale SA and live in Germany and France. They didn't appear at the first court hearing Monday to face the charges from the U.K. Serious Fraud Office. Loraine-Smith said the SFO must inform the court how it would proceed with those five at a hearing in March.
Before it's here, it's on the Bloomberg Terminal.
LEARN MORE