Iran Frees U.S. Sailors Whose Boats Strayed Into Its Waters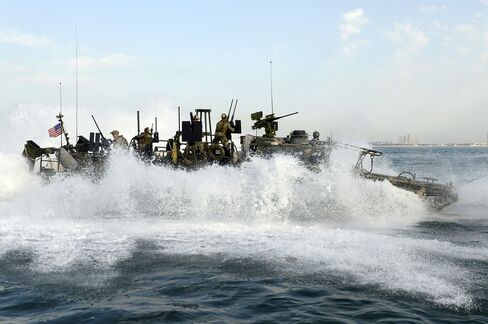 Americans apologized for accidental incursion, Iranians say

Kerry thanks Iranians for `cooperation and quick response'
Iran released 10 U.S. sailors it had detained after their boats strayed into Iranian waters, easing frictions that have intensified ahead of the implementation of the July nuclear accord.
"After it was made clear that the U.S. boats had unintentionally entered into the Islamic Republic's waters and they apologized, the decision to free them was taken," the country's Revolutionary Guards said on Wednesday in a statement carried by the Tasnim news agency.
The U.S. Defense Department said the sailors had departed Iran aboard the two Riverine Command Boats they had been operating when they lost contact with the Navy. "There are no indications that the sailors were harmed during their brief detention," it said in a statement. Defense Secretary Ashton Carter later confirmed that the sailors "are now back in U.S. hands."
Tuesday's incident added a new bump to U.S.-Iranian relations as Iran moves closer -- perhaps within days -- to winning a lifting of international sanctions against it in return for curbing its nuclear activities. Pressure has grown in the U.S. Congress to impose additional sanctions on Iran for its recent ballistic missile tests.
Kerry's Thank-You
The sailors' detention was reported just hours before U.S. President Barack Obama was set to deliver his final State of the Union address. Republicans were quick to say, as Senator Lindsey Graham of South Carolina put it, that it showed "the Iranians were on the prowl and President Obama isn't very well-respected."
The administration said the outcome demonstrated the opposite: the benefits of engagement with Iran through the talks that yielded the nuclear deal. Secretary of State John Kerry and Iran's Foreign Minister Mohammad Javad Zarif, who came to know each other well during the months of negotiations, spoke by phone Tuesday while the sailors were being held. Kerry said Wednesday that he wanted "to thank the Iranian authorities for their cooperation and quick response."
"These are always situations which, as everybody here knows, have the ability if not properly guided to get out of control," Kerry said in a speech at the National Defense University in Washington. "And I think we can all imagine how a similar situation might have played out three or four years ago."
The U.S. naval craft entered Iranian territorial waters at 4:30 p.m. on Tuesday, the Guards said in a statement on their news website, Sepahnews.ir. The nine men and one woman were taken to nearby Farsi Island, according to an initial statement published Wednesday.
Guards navy commander Admiral Ali Fadavi said Wednesday that investigations showed the U.S. naval craft entered Iranian territorial waters due to a broken navigation system, according to a Tasnim report. A U.S. defense official, who asked not to be identified discussing the incident, said an investigation will begin to determine what led to the incident.
Video of Sailors
Video released by Iran's Fars News Agency shows the captured American sailors being forced to kneel with their hands behind their heads and displays weapons arrayed on the decks of one of the ships. Later, though, the video shows the Americans chatting as they were served an Iranian meal.
Riverine command boats are light-weight, high-speed, coastal assault vessels that conduct maritime security operations, protect infrastructure and provide security escorts.
In 2007, Iran seized 15 British sailors and marines who the U.K. said were conducting "routine boarding operations" in Iraqi waters and Iranians said had illegally crossed into its maritime zone. They were released after 13 days.
Before it's here, it's on the Bloomberg Terminal.
LEARN MORE