Luxury carmaker Jaguar Land Rover is the best place to work in corporate Britain, according to a survey of thousands of employees carried out for Bloomberg by Statista.
The company, which has 35,000 employees in the U.K. – almost its entire global workforce – was ranked number one among 400 businesses surveyed that employ more than 500 people in Britain.
The top three companies in the list – Jaguar Land Rover, AstraZeneca and Harrods – are all headquartered in the U.K.
"Over the past five years, we have created more than 20,000 new jobs and are investing significantly in the future of Jaguar Land Rover by recruiting and developing the people that will help ensure our continued success," said Ian Harnett, executive director of human resources and global purchasing at Jaguar Land Rover.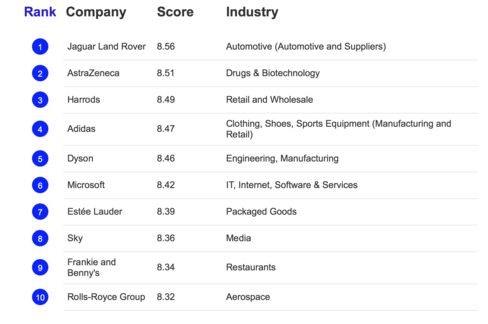 Click the table to access the full data
The survey, which lists the top 400 employers in the U.K., was conducted between Oct. 6 and Oct. 26, 2015, via a series of online panels. A sample of 15,000 U.K. employees was used to achieve a representative snapshot of life at a British business, and only companies with at least 500 employees are included on the list. Respondents answered 35 questions about their employer, and were asked to positively or negatively identify companies in the 23 sectors of industry grouped in the survey other than their own.
Respondents came from 25 industries as varied as automotive, media, oil and gas, construction, retail, and food and drink, with companies in each sector ranked against each other.
Educational establishments are included (with the 23rd-placed University of Cambridge winning the varsity battle with 32nd-placed Oxford), as are government bodies (led by Inverclyde Council, ranked 61st overall) and utilities (Northumbrian Water Group, 21st overall).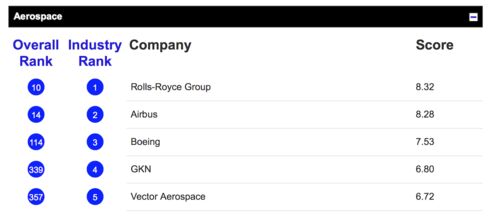 In key industry head-to-heads, Rolls-Royce (10th overall) came out ahead of Airbus (14) and Boeing (114); Adidas (4) beat Nike (11); Sky (8) beat the BBC (15) and ITV (26), while Guardian News and Media (185) was the only national newspaper group to make the list. In the food and drink rankings most High Street chains failed to impress, with only Frankie and Benny's (9th) ranking within the top 50.
"Reputation and the atmosphere within a company is very important for employee satisfaction," said Charlotte Edney, analyst at Statista and co-author of the report.
"Colleagues working together, [doing] interesting work, being given the opportunity for training, all plays a part in that atmosphere and development driver.
"Jaguar Land Rover had a very high direct and in-direct score which means the internal and external perceptions of the company are very good," Edney said.
One notable absentee from the very top of the list is Google. The tech giant ranked highly, emerging in 16th place overall, but under-performed in the U.K. – where it is building a new European HQ in London's Kings Cross area, compared to its top 10 placings in Statista rankings in the U.S., Canada, France and Germany. In those countries, Google's local businesses rank 2nd, 9th, 3rd and 8th respectively.
Instead, Google, which declined to comment on its placement, saw Microsoft emerge on top of the technology and internet sector.
Explore the full data: Bloomberg Best Employers U.K. 2016
(
Corrects size of Jaguar Land Rover U.K. workforce in 2nd paragraph
)
Before it's here, it's on the Bloomberg Terminal.
LEARN MORE