Al Jazeera America Closing, Citing Challenges for U.S. Media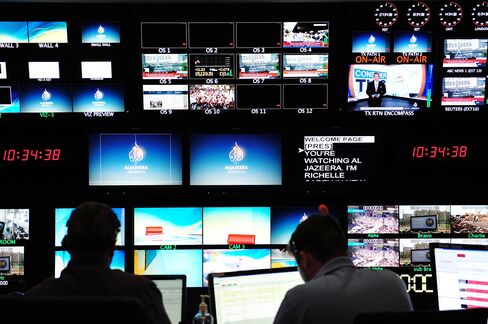 Business model `simply not sustainable,' CEO Anstey says

Herring interested in Al Jazeera's carriage on pay-TV systems
Al Jazeera is shutting down its U.S. television and digital operations, citing a tough business climate for media companies.
Started in 2013, Al Jazeera America will end operations by April 30, Al Jazeera Media Network said in a statement Wednesday. Charles Herring, president of closely held Herring Networks Inc., expressed interest in acquiring its slot on cable systems.
"Our business model is simply not sustainable in light of the economic challenges in the U.S. media marketplace," Al Anstey, chief executive officer of Al Jazeera America, wrote in a memo to staff.
The Qatar-based TV network controlled by the Middle Eastern state's royal family has struggled to build an audience in the U.S., posting weak ratings as more Americans forgo cable-TV and satellite to watch shows from Netflix and Hulu. To demonstrate its investigative reporting, the network last month aired a documentary -- "The Dark Side: Secrets of the Sports Dopers" -- linking professional athletes including Denver Broncos quarterback Peyton Manning to performance-enhancing drugs. Manning has denied the allegations.
Anstey, in his memo, didn't address how many jobs would be lost. He told employees they will meet with human resources to "outline a number of other measures that are being taken in order to support every one of you as a result of today's announcement."
Al Jazeera introduced its cable-news channel in the U.S. after paying $500 million for Al Gore's Current TV. The company hired 700 staffers for a dozen U.S. bureaus to produce in-depth reporting on topics such as health-care reform, drugs in baseball and gun violence in Chicago. To boost its appeal to an American audience, Al Jazeera hired former CNN personalities Soledad O'Brien and Ali Velshi.
Last year, Al Jazeera America's TV operations reached 61 million homes and generated $110 million in total revenue, yet lost $72 million, according to researcher SNL Kagan.
Anstey, who was named chief executive officer in May, said Al Jazeera plans to expand its digital products this year to bring new global content into America.
Interested Buyer
Al Jazeera America has at least one interested buyer. Herring said in an interview that he wants his news channel -- One America News Network -- to take over Al Jazeera America's carriage on pay-TV systems, similar to how Al Jazeera assumed the spot of Al Gore's Current TV. Herring said he's hired a banker that has reached out to Al Jazeera.
One America News Network, a conservative channel described as trying to become the next Fox News, reaches 15 million homes. Acquiring Al Jazeera America would help expand its audience, Herring said. Some Al Jazeera journalists could also work for One America News Network, he said.
"They have greater distribution than we have," Herring said. "If there's an opportunity to gain distribution through an acquisition, we're excited to do so."
Before it's here, it's on the Bloomberg Terminal.
LEARN MORE