U.S. Says South Africa May Lose AGOA Trade Benefits in March
Obama statement comes despite resolution of trade dispute

U.S. seeks implementation of meat pact to avoid suspension
South Africa may lose duty-free access for its farming exports to the U.S. by the middle of March if it fails to implement an agreement on meat trade with the world's biggest market.
The U.S. will suspend South Africa's preferential access for agricultural products under the African Growth and Opportunity Act from March 15, according to a proclamation issued on Monday by President Barack Obama.
The statement comes despite a deal announced on Jan. 7 resolving a trade dispute between the two countries that enables the U.S. to export poultry, pork and beef to South Africa. Trade Minister Rob Davies said at the time he expects South Africa's duty-free benefits under AGOA will continue uninterrupted.
"Suspending the application of duty-free treatment to certain goods would be more effective in promoting compliance by South Africa with such requirements than terminating the designation of South Africa as a beneficiary," the U.S. said in the proclamation.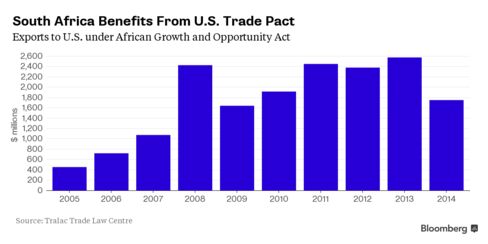 South Africa has been under pressure to reach agreement with the U.S. to open its market to American meat in order to retain benefits under the AGOA accord, which favors 39 African nations by eliminating import levies on more than 7,000 products ranging from textiles to manufactured items. The government published regulations on Dec. 18 allowing for an annual quota of 65,000 tons of poultry from the U.S.
"The U.S. condition is that they want to see their poultry in South Africa," Davies told reporters in Cape Town on Tuesday. "We have gazetted the quota and it now depends on the private sector to bring it in."
'Accepting Punishment'
To remain beneficiaries of AGOA, countries are required to cut barriers to U.S. trade and investment, operate a market-based economy, protect workers' rights and implement economic policies to reduce poverty.
A U.S. Trade Representative spokesman told Bloomberg BNA in an e-mail that while substantive points had been resolved, authorities are now "testing the new system to make certain American poultry can be made available on store shelves in South Africa."
South Africa exported $154 million worth of farming goods to the U.S. under AGOA in the first nine months of last year, or about 14 percent of shipments, according to data from the Trade Law Centre, based in Stellenbosch, near Cape Town. The bulk of South African exports under AGOA are vehicles and car-parts.
"No one is happy to be punished, but we agreed to be punished and we accept the punishment," Kevin Lovell, chief executive officer of the South African Poultry Association, said by phone on Tuesday. "South Africa would have more taken away from us if AGOA is not renewed."
Before it's here, it's on the Bloomberg Terminal.
LEARN MORE