Cancer Therapy Promise Makes Roche the Darling of Drug Stocks
Roche Holding AG is analysts' favorite big pharmaceutical stock going into JPMorgan Chase & Co.'s annual health-care conference, where industry executives flock to hold court with top investors.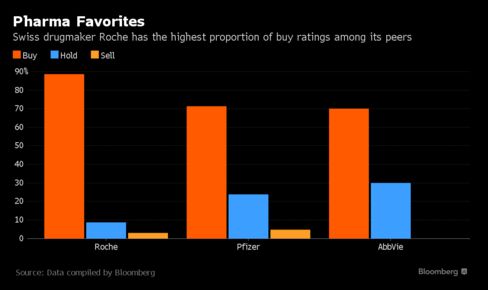 The world's biggest maker of cancer drugs, based in Switzerland, won U.S. approval for two new medicines last quarter. Oncology is one of the fastest-growing therapy areas, accounting for about 20 percent of branded drug sales. Roche also expects approval this year for multiple sclerosis treatment ocrelizumab.
Pfizer Inc., which agreed in November to buy Allergan Plc for $160 billion, was analysts' second most-favored pharmaceutical stock, followed by AbbVie Inc., the U.S. maker of blockbuster arthritis treatment Humira.
AstraZeneca Plc of London has the highest percentage of sell recommendations among 15 drugmakers with yearly revenue exceeding $20 billion and at least 20 ratings. Most analysts advise holding shares of crosstown rival GlaxoSmithKline Plc. Both companies have been struggling to replace revenue from top products that have lost patent protection. Sanofi, which forecast sluggish earnings growth in November, has the third-highest percentage of sell recommendations.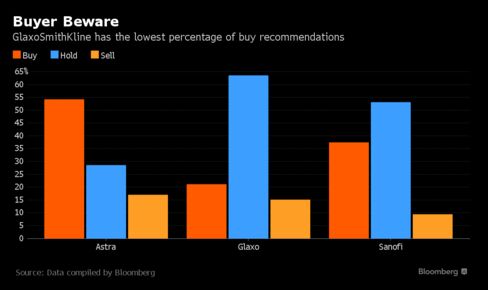 Before it's here, it's on the Bloomberg Terminal.
LEARN MORE