Record Low Loonie in Top Forecaster's Sights Amid Commodity Rout
Macquarie Group's Doyle sees drop to 59 U.S. cents this year

Currency slides under 70 U.S. cents as crude oil tumbles
The Canadian dollar is heading for a record low with the central bank poised to cut interest rates again as commodity prices collapse to the lowest since 1991, manufacturing stalls and consumers remain buried in debt, according to the currency's top forecaster.
The currency will fall to a record low 59 U.S. cents by the end of 2016, Macquarie Group Ltd.'s David Doyle, Bloomberg's top-ranked forecaster for the Canadian dollar last year, said Tuesday. Doyle's latest call came after the currency fulfilled his previous prediction from last February to fall below 70 U.S. cents. It briefly hit 69.9 U.S. cents for the first time in 13 years Tuesday as oil dipped below $30 per barrel for the first time in almost as long. The Canadian currency fell to 69.69 U.S. cents on Wednesday.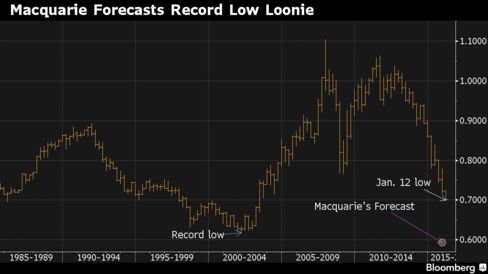 Doyle joined economists from Bank of America Corp., Credit Suisse Group AG and Toronto-Dominion Bank calling for the Bank of Canada to cut interest rates to 0.25 percent at its Jan. 20 policy meeting, a record low only ever seen in the wake of the 2009 financial crisis. The reasons cited are the same: low oil means further cuts from the energy firms that drove growth the last decade, while Canada's manufacturing exports are still too weak, and competition from Mexico too fierce, for anything else to fill the gap.
"We're much more dependent on oil now than we were in the past," Doyle said in a telephone interview from Toronto. "Manufacturing and non-energy exports have far less ability to propel the economic outlook than they have in the past."
View Gaining
The view is gaining ground in the market, with the odds of a rate cut next week rising to about 35 percent Tuesday from about 17 percent on the last trading day of 2015, Bloomberg calculations based on trading in overnight index swaps show.
The loonie, as the Canadian dollar is called for the aquatic bird on the C$1 coin, fell further Wednesday to trade as low as 69.69 U.S. cents, or C$1.4349 per U.S. dollar, the first time it touched that level since April 2003. On Tuesday crude oil fell to a 12-year low of $29.93 per barrel in New York before closing just above $30. The Bloomberg Commodity Index, a measure of returns from 22 raw materials including copper and gas, fell as much as 1.5 percent to 74.02 on Tuesday to the lowest since at least 1991.
The Canadian dollar mostly traded below 70 U.S. cents from 1998 to 2003 before the country's oil industry took off and auto exports surged to make up their biggest ever share of exports. It's all-time low was 61.76 U.S. cents in 2002, according to data compiled by Bloomberg.
A 59 U.S. cent loonie would mean one U.S. dollar buys C$1.6949. Doyle said that once the currency reaches its record low, it will stay depressed through the end of 2018.
The median forecast among economist surveyed by Bloomberg calls for the currency to strengthen to C$1.37 per U.S. dollar by the end of March, or 73 U.S. cents, and then end the year at C$1.35 per U.S. dollar.
Closed Doors
"There are no doubts that the current state of the global economy is having a significant impact on the state of our economy," Finance Minister Bill Morneau said, according to prepared remarks from a speech in Montreal on Tuesday. "Going forward, it is very likely that global economic conditions will remain unfavorable, and that subdued commodity prices will persist."
The Bank of Canada cut interest rates twice last year to combat the collapse in prices for crude oil, until 2015 the country's biggest export. The Bank of Canada has noted manufacturing capacity has shrunk since its heyday and even three straight years of currency weakness has failed to win back that lost ground.
About 10,000 exporting companies have closed their doors in Canada over the last decade as the oil boom pushed up the currency's value, according to an estimate in a report by Credit Suisse on Tuesday.
"You've had this decline in the currency which historically has lead to an improved economic outlook," Macquarie's Doyle said. "It hasn't really worked this time and part of the rationale for that is we just don't have the same type of activity in those areas as we did previously."
Before it's here, it's on the Bloomberg Terminal.
LEARN MORE