AB InBev's Mega Bonds Just the Start of a Corporate-Debt Deluge
Anheuser-Busch InBev NV is moving closer to selling what could be a record amount of bonds to finance an acquisition, the first in a series of mega-deals slated to fund some $630 billion of takeovers that could weigh on corporate debt prices this year.
Companies will probably sell $280 billion of investment-grade corporate debt in 2016 to fund acquisitions globally, up from a record $258 billion last year, according to an estimate from Barclays Plc which excludes financial companies. After the beer deal, some of the year's biggest debt offerings could come from Dell Inc., Anthem Inc. or Newell Rubbermaid Inc. to fund recently announced buyouts.
The flood of issuance could push up borrowing costs for companies that are issuing debt to finance takeovers. Other companies could also see their borrowing costs rise, as investors sell their current holdings to make room for new, higher-yielding bonds that are hitting the market.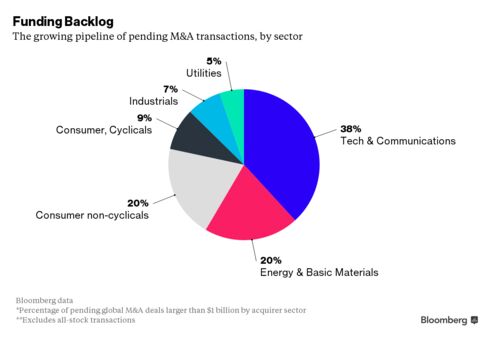 "Acquisition financing is going to drive the marketplace across the board," said Richard Zogheb, co-head of capital markets origination for the Americas at Citigroup.
Yields on high-grade corporate debt relative to Treasuries, a measure of how much extra interest investors demand for taking on credit risk, could widen by as much as 0.15 to 0.2 percentage point this year as large deals flood the market, said Joe Mayo, head of credit research at Conning, which manages about $92 billion for insurance companies. For a company issuing $10 billion of debt, that could amount to an extra $15 million to $20 million of annual interest costs.
Bank of America strategists estimate there are about $630 billion of North American M&A deals scheduled to close in 2016 involving buyers that may need to tap the high-grade bond market for funding. That's up from about $500 billion of deals that obtained funding through November.
Profit Fears

Deal-financing is just one of a slew of factors that could weigh on corporate bonds in 2016. In December, the U.S. Federal Reserve began increasing interest rates for the first time in nearly a decade and economists expect it will lift short-term rates three to four more times this year. Investors meanwhile are concerned that slow growth in the global economy will crimp corporate profits, they said. In the U.S., the Standard & Poor's 500 index has fallen about 5.8 percent so far this year, and ended last week with the worst start for a year on record.
Bond buyers are demanding the largest yield premium over Treasuries in more than three years to hold investment-grade debt, according to Bloomberg indexes. Average corporate bond spreads are now around 1.8 percentage points, up more than 0.6 percentage point from the beginning of last year.
Investment grade companies will probably issue $1.3 trillion of bonds in 2016, similar to 2015 levels, Barclays strategists led by Shobhit Gupta wrote Dec. 18. Acquisition-related issuance will likely account for a higher percentage of that total, which could push spreads wider.
A company's bond spreads can widen as soon as it announces a large debt-funded deal, as investors fret about the extra financing the company will need. Spreads can also widen just before the new offering as investors sell the issuer's existing debt to free space for the new, more attractively priced bonds, said Gregory Nassour, principal and co-head of investment-grade portfolio management at Vanguard.
Issuers of the 30-biggest merger-and-acquisition-related bond deals in the past two years saw their bonds perform worse than their peers during the four weeks before they brought M&A-related deals to market and through the date of issue, Barclays strategists led by Ryan Preclaw wrote in a note to clients Dec. 11.
Pushing Levers
When a company announces an acquisition, its rivals' bonds may widen too, as investors brace for competitors to follow suit with purchases of their own. That's a real possibility as companies struggle to boost growth, investors said.
"Boards are pushing the levers of M&A to achieve growth objectives," said Leo Civitillo, the global co-head of fixed-income capital markets at Morgan Stanley.
AB InBev on Monday began marketing on Monday a bond offering that sources in October said could be as much as $55 billion total.
Bonds in the tech and oil and gas sectors, which account for the biggest chunk of acquisitions expected to close this year, could see the most widening, analysts and investors said. Wells Fargo is recommending that clients reduce their exposure to companies in sectors that are likely to see more acquisitions, such as technology, where companies have room to add debt and revenue growth is slowing.
If investors' risk aversion increases, the market could be less willing to absorb big acquisition-linked deals, said Jeff Cucunato, head of U.S. investment-grade credit for BlackRock Inc.
"If markets undergo a bit of turbulence, it could be more challenging for more opportunistic deals to get funded," Cucunato said.
Before it's here, it's on the Bloomberg Terminal.
LEARN MORE