Marchionne Embarks on Final Mission Impossible at Fiat Chrysler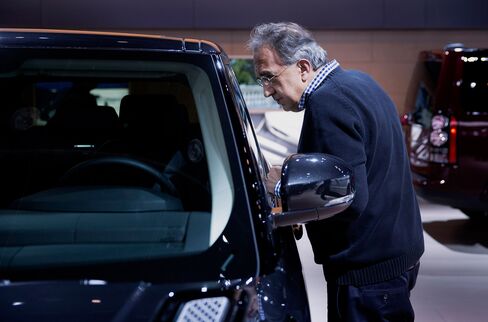 Carmaker predicted to fall short of profit, sales goals

Marchionne may seek deal with tech giant to avoid `mediocrity'
As Fiat Chrysler Automobiles NV Chief Executive Officer Sergio Marchionne starts to look beyond his reign at the carmaker, he's betting he can silence naysayers one more time.
The savvy dealmaker has set himself the monumental task of erasing 7 billion euros ($7.65 billion) in debt and more than tripling net income to about 5 billion euros by 2018. With plans to expand Alfa Romeo into a serious BMW challenger proving tougher than expected and no game-changing deal on the horizon, most analysts aren't giving him much of a chance.
"Ambitious is not really an adequate word to describe it; 'Fantasyland' might be more appropriate," Max Warburton, an analyst at Sanford C. Bernstein Ltd., said in a report. "We would dearly love to see Marchionne leave on a high, but right now it's hard to envisage quite what the glorious exit to this extraordinary career is going to look like."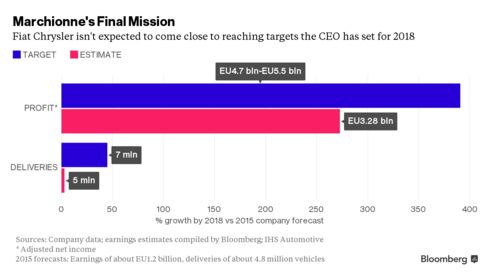 After calling off efforts to force General Motors Co. into a merger, the 63-year-old CEO has made implementing a 48 billion-euro investment and restructuring plan his final job at the company he's run since 2004. The targets he laid out -- including increasing annual deliveries by about 2.4 million vehicles, more than BMW AG sells in a year -- appear out of touch with reality, especially with former growth markets like China, Brazil and Russia struggling.
IHS Automotive forecasts modest growth for Fiat Chrysler, with sales edging up to about 5 million vehicles in 2018. That's a far cry from Marchionne's original target of 7 million. A similar miss is expected on the goal of generating 4.7 billion euros to 5.5 billion euros in profit. Adjusted net income is projected at 3.28 billion euros in 2018, according to the average estimate of five analysts surveyed by Bloomberg. They also don't expect the carmaker to be debt-free in three years.
'Never Right'
The doubts haven't swayed Marchionne.
"Analysts never got it right with our estimates," Marchionne said Monday at the North American International Auto Show in Detroit, adding that 2015 earnings will be better than expected, closing the gap to the targets. "We'll prove step after step we'll get there."
With the focus squarely on financial metrics, he backed off his goal of selling 7 million cars in 2018. "If to get there I make even just 2 million cars, who cares?" said the CEO, adding that he reviewed his plan's numbers early Monday morning in his garage.
Fiat shares rose 0.7 percent to $8.05 at 11:12 a.m. in New York. The stock has fallen 12.3 percent this year, valuing the London-based company at $10.4 billion.
Marchionne has more than pride at stake. Under an incentive plan approved in 2014, he's entitled to receive 4.32 million Fiat Chrysler shares -- worth around $35 million at current prices -- if the company meets its 2018 net income target. He'll be seeking to push ahead with the plan at the Detroit car show this week, where he'll present the first hybrid minivan in the U.S.
Amid China's woes and with Fiat Chrysler's sales in Brazil down 30 percent last year, Marchionne is shifting spending to the Jeep division at the expense of investments in the Alfa Romeo and Maserati marques. Jeep deliveries surged 22 percent last year to 1.24 million cars, bolstered by the new, Italy-made Renegade compact sport utility vehicle.
"The star of the next years should be Jeep," said Massimo Vecchio, an analyst at Mediobanca in Milan. And even if the targets are far-fetched, "we see massive upside in the stock."
Even with the spending adjustments and the spinoff of the high-margin Ferrari brand, overall financial targets won't be cut and a merger or acquisition isn't needed to reach them, Marchionne has said. An update of the strategy is slated to be published at the end of January with full-year results.
Tech Talks
By focusing on his expansion plan, Marchionne has said he aims to put Fiat Chrysler in a better position to strike a deal down the line, as he argues that the auto industry should consolidate to cope with rising development costs. But since he's sticking to his commitment to depart by the end of 2018, Chairman John Elkann, the 39-year-old head of the Agnelli family that controls Fiat Chrysler, may have to lead the task.
Still, Marchionne could have another trick up his sleeve and has said he's in talks with technology companies on a partnership. While he hasn't discussed the nature of cooperation under discussion, Google and Apple Inc. are expected to need manufacturing partners for their self-driving vehicles.
"I expect a final coup by Marchionne," said Giuseppe Berta, a professor at Bocconi University in Italy and the former head of Fiat's archives. "If there are no chances with GM, then a deal in California is the only alternative for Sergio to avoid mediocrity for Fiat Chrysler."
Before it's here, it's on the Bloomberg Terminal.
LEARN MORE