Gold Bars Fetch Most Barrels of Oil Since Late 1980s: Chart
With oil prices reeling from an oversupply and gold getting a boost from demand for a haven, Brent crude is the cheapest relative to the precious metal in a generation.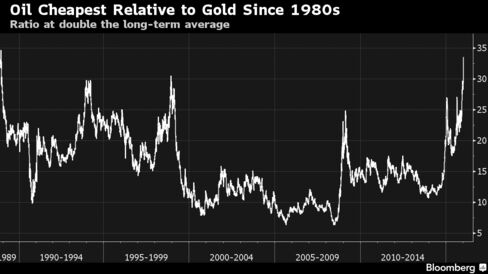 Bullion has climbed 4 percent this year to $1,103.58 an ounce, while Brent futures slumped 11 percent to $33.32 a barrel, near an 11-year low. An ounce of gold buys more than 33 barrels of oil, the most since 1988. The average ratio has been 16.
"By longer-term historical trends, crude oil should be trading for almost double its current $33-a-barrel price just to maintain its historical price relationship to gold," Nicholas Colas, chief market strategist at ConvergEx Group LLC in New York, wrote in a report.
Before it's here, it's on the Bloomberg Terminal.
LEARN MORE