Europe's Already Bleak Outlook Shields Bonds From Market Turmoil
German 10-year bunds fall for first time since start of 2016

Bonds extend drop as China suspends rule that roiled markets
European government bond traders are already so used to bad news that the latest turmoil in Chinese markets, which reverberated through global stocks and currencies, failed to support the region's debt.
German 10-year bunds dropped for the first time this week as investors remained cautious of pushing yields to new lows and 12 billion euros ($13 billion) of fresh supply came from France and Ireland. Euro-zone debt extended its declines after China's securities regulator suspended a stock circuit-breaker that has hurt global equities.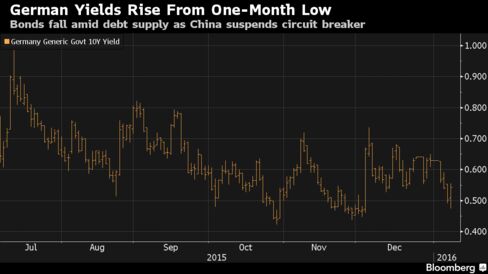 That offset any bond advance that might have been caused by the upsets in markets from Europe to Asia and the U.S. The euro region's securities underperformed Treasuries as the already pessimistic growth and inflation outlook priced into European markets left limited scope for gains.
"In the morning you had the Chinese equity-market wobbles shaking markets in Europe," said Jan Von Gerich, chief strategist at Nordea Bank AB in Helsinki. "The equity markets have subsequently stabilized, while bonds have failed to rally further from already very subdued yield levels. That was probably enough for some profit-taking."
The People's Bank of China cut the onshore yuan's fixing to the lowest since March 2011, triggering a stock selloff that led to the closure of Chinese exchanges. Speculation that officials then intervened to prop up the exchange rate went on to spark a rally that left investors confused about the PBOC's motives. Later in the day, China's regulator acted on its new stock circuit-breaker.
Shrugging Off
Benchmark German 10-year bund yields rose four basis points, or 0.04 percentage point, to 0.54 percent as of 5:58 p.m. London time, rebounding from 0.48 percent, the lowest since Dec. 3. The 1 percent security due in August 2025 fell 0.35, or 3.50 euros per 1,000-euro face amount, to 104.30.
Italy's 10-year bond also dropped for the first time this year, with the yield jumping seven basis points to 1.55 percent.
Further constraining the region's bonds was the already accomodative monetary policy from the European Central Bank. After officials boosted their stimulus efforts in December, investors have questioned how much more easing will happen in the near future.
U.S. yields are higher than those of their German peers, leaving more room for yields to pull back, according to Daniel Lenz, lead market strategist at DZ Bank AG in Frankfurt.
France sold 9 billions euros of bonds at auction, while Ireland sold 3 billion euros of 2026 bonds via banks.
"The weight of pending supply meant European government bonds were like a rabbit in headlights," said Peter Chatwell, head of rates strategy at Mizuho International Plc in London.
Before it's here, it's on the Bloomberg Terminal.
LEARN MORE