China Boosted Bullion Holdings in December as Prices Retreated
Central bank added 610,000 ounces to reserves last month

China buying gold to help promote yuan as dollar rival: Wendt
China increased its gold hoard for the sixth straight month in December as prices extended their decline through the end of last year.
The central bank boosted reserves to 56.66 million ounces or about 1,762 metric tons from 56.05 million ounces in November, according to the People's Bank of China. The country has expanded its stash by 6.3 percent since announcing in July a 57 percent jump since 2009.
China is buying gold to diversify its foreign exchange reserves and holds the fifth-biggest tonnage by country. Russia and Kazakhstan are among other nations increasing assets. Russia has added bullion for 10 straight months and tripled its hoard since 2008, according to data from the International Monetary Fund. Prices fell for a third year in 2015, losing 10 percent.
"At these sorts of price levels, combined with China's determination to both diversify its foreign reserves and also to try and promote the yuan as a rival world currency to the U.S. dollar, I expect China will maintain its program of gold buying for a considerable period of time," Gavin Wendt, founding director at MineLife Pty Ltd. in Sydney, said by e-mail.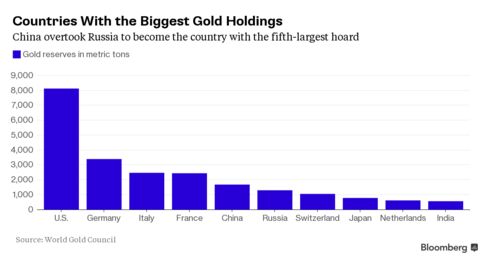 China's holdings represent only 1.8 percent of its reserves compared with 68 percent for Germany and 73 percent for the U.S. The value of assets was $60.2 billion at the end of December from $59.5 billion a month earlier, according to the central bank.
Before it's here, it's on the Bloomberg Terminal.
LEARN MORE