Libya's Peace Efforts in Tatters After Deadliest Bomb Kills 50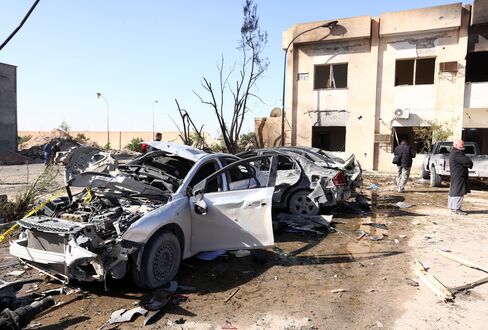 Attack follows Islamic State assault on key oil center

UN attempting to win support for unity government plan
Violence in Libya deepened as a bombing at a police training center in a coastal city left at least 50 recruits dead days after Islamic State launched an assault on the nation's biggest oil port.
The attack in Zliten was "massive," according to Said Muftah al-Himady, head of the local council, adding that given the enormity of the explosion a van or truck was probably used to carry the explosives. While there has been no claim of responsibility, Al-Jazeera said it was likely carried out by Islamic State, whose presence in Libya has steadily grown since the country fractured between two rival administrations in the summer of 2014.
If the group was behind the strike, then "the big question now is whether it will make the clock tick faster for any western intervention," said Mattia Toaldo, a Libya analyst at the European Council on Foreign Relations in London. Any response is likely to be restricted to a "symbolic intervention such as drone strikes or special operations on the ground," he said.
The United Nations has been trying to forge a unity government to stem the spiraling unrest in Libya, that began with the ouster and death of Muammar Qaddafi in an uprising in 2011. The chaos has helped fuel Europe's refugee crisis and allowed Islamic State to carve out a presence just as it has been stripped of territory in Iraq and Syria by local forces and U.S.-led airstrikes.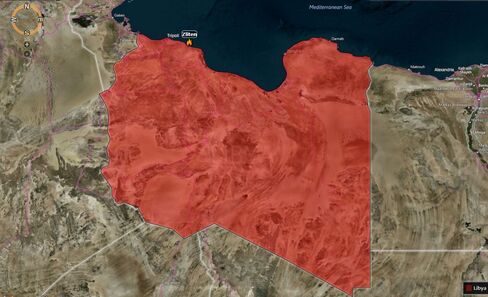 Italian Plan
After representatives of Libya's feuding parliaments agreed last month to form a joint administration within 40 days, officials from former colonial power Italy were said to be drawing up plans for a military coalition to stabilize the country, albeit one that wouldn't have a combat role. Military action would be complicated by the presence of numerous armed militias and extremist groups vying for control of territory and resources.
The Islamic State attacks on oil storage tanks in the region of Es Sider this week compounded Libya's economic woes, prompting the National Oil Corp. to issue a "cry for help." Political leaders needed to urgently come together and establish a unified security force, the company's chairman, Mustafa Sanalla, said.
Libya, with Africa's largest oil reserves, pumped about 1.6 million barrels a day of crude before the rebellion that ended Qaddafi's 42-year rule. It's now the smallest producer in the Organization of Petroleum Exporting Countries, producing 370,000 barrels a day in December, data compiled by Bloomberg show.
Hospital Plea
Al-Himady said he wasn't able to give a precise death toll for Thursday's bombing. Libya's state-run news agency reported that at least 50 people died, citing witnesses and hospital officials. Al-Arabiya television said that as many as 100 recruits were killed. The Ministry of Health declared a state of emergency, and asked all hospitals to help treat incoming patients. Hospitals were calling for blood donations.
Local police said the attack on the recruiting center took place at about 8 a.m. local time, when about 400 trainees were gathered for a morning meeting. Zliten lies about 160 kilometers (100 miles) east of the capital, Tripoli.
Later on Thursday, a suicide attacker struck a Petroleum Facilities Guard checkpoint between the Ras-Lanouf and Es Sider oil terminals, leading to the closure of a road that connects the two cities, according to Said al-Hamaly Younis, an engineer at al-Horrooj oil port. There was no immediate report of casualties.
Before it's here, it's on the Bloomberg Terminal.
LEARN MORE