Applications for Jobless Benefits in U.S. Decreased Last Week
Fewer Americans filed applications for unemployment benefits last week, a sign the U.S. labor market remained robust entering 2016.
Jobless claims dropped by 10,000 to 277,000 in the week ended Jan. 2, a report from the Labor Department showed on Thursday. The figure was in line with the 275,000 median forecast in a Bloomberg survey of economists.
Employers are retaining workers amid steady demand, particularly among consumers, whose spending accounts for about 70 percent of the economy. Jobless claims continue to hover near four-decade lows, consistent with the labor-market progress that persuaded Federal Reserve policy makers to raise interest rates last month for the first time since 2006.
"The layoffs side of the labor market equation has been unusually favorable for quite some time; there's no evidence that's going to change," said Stephen Stanley, chief economist at Amherst Pierpont Securities LLC in Stamford, Connecticut, who correctly projected claims. "The labor market is performing well."
Since early March, claims have been below the 300,000 level that economists say is typically consistent with an improving job market.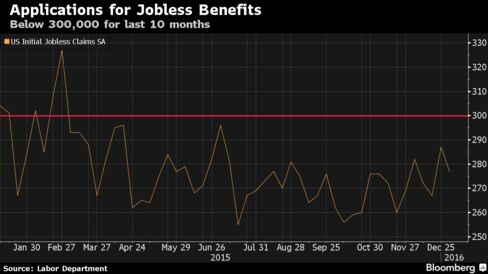 Economists' estimates in the Bloomberg survey for weekly jobless claims ranged from 260,000 to 290,000. The previous week's figure was unrevised at a six-month high of 287,000. The jump during that period ended Dec. 26 could have been caused by the volatility introduced when the numbers are adjusted for seasonal variations.
No states estimated data last week and there was nothing unusual in the data, a Labor Department spokesman said as the data were released.
The four-week moving average, a less volatile measure than the weekly claims numbers, decreased to 275,750 last week from 277,000.
Continuing Claims
The number of people continuing to receive jobless benefits rose by 25,000 to 2.23 million in the week ended Dec. 26. The unemployment rate among people eligible for benefits held at 1.6 percent. These data are reported with a one-week lag.
Initial jobless claims reflect weekly firings, and a sustained low level of applications has typically coincided with faster job gains. Many layoffs may also reflect company- or industry-specific causes, such as cost-cutting or business restructuring, rather than underlying labor market trends.
Fed policy makers last month lifted their benchmark rate from zero, acknowledging that the job market had made strides.
"Almost all participants agreed that the improvements that had occurred in the labor market and their confidence in a return of inflation to 2 percent over the medium term now satisfied the Committee's criteria for beginning the policy normalization process," according to minutes of the central bank's December meeting released on Wednesday.
A report Wednesday from the ADP Research Institute showed companies took on 257,000 workers in December, the most in a year.
The Labor Department's monthly jobs report due Friday is projected to show the economy probably added around 200,000 workers in December and the unemployment rate held at a more than seven-year low of 5 percent.
Before it's here, it's on the Bloomberg Terminal.
LEARN MORE