Netflix Goes Live in 130 New Countries; Shares Advance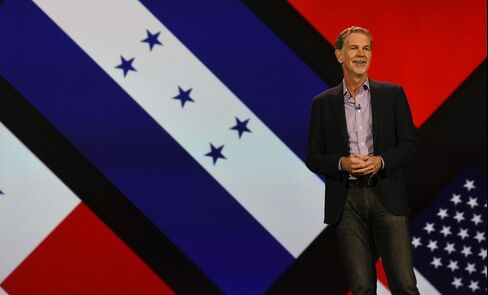 India added; China remains gap in worldwide coverage goal

CEO: `You are witnessing the birth of a global TV network'
Netflix Inc. began selling its streaming service in India and more than 100 other countries, closing in on its goal of becoming the first global online television service.
"Right now, you are witnessing the birth of a global TV network," Chief Executive Officer Reed Hastings said Wednesday in a keynote speech at the International Consumer Electronics Show in Las Vegas. The stock logged its biggest gain since July, surging 9.3 percent. Netflix went live in 130 new countries, including Russia, Poland and Singapore, during his presentation.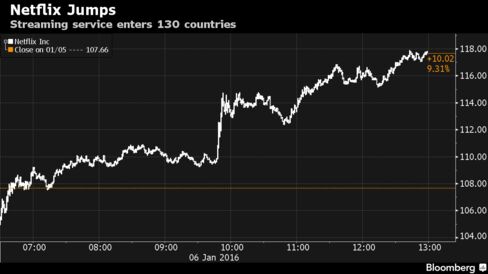 Adding India, most of the rest of Asia and other countries around the world marks a major step for Netflix. But China, the world's most populous country, remains a gap. The company already operated in at least 60 markets, including most of Europe and South America. Hastings has told investors Netflix will begin to deliver material profits once it completes its expansion.
To gain access to China, "We need specific permission from the government. We're continuing to work on that," Hastings told reporters after his speech. "We're very patient. I think it will be a success there. It will take some time."
Netflix advanced to $117.68 at the close in New York, posting the biggest rise among members of the Standard & Poor's 500 Index. The shares, which rose the most in the S&P 500 last year, had started 2016 with two days of losses.
Hastings has positioned Netflix's online, on-demand service as a cheaper, more modern alternative to the pricey subscriptions for so-called linear TV, which he views as a fading business.
The presentation began with a video recapping the history of television, followed by presentations from Hastings, Chief Content Officer Ted Sarandos and Chelsea Handler, the host of a coming talk show for Netflix. She interviewed Will Arnett, Krysten Ritter and Wagner Moura, all stars of other Netflix shows.
Territories outside the U.S. already account for most of Netflix's subscriber growth. Last year the company projected it would add more than 11 million customers outside the U.S. in 2015, bringing its international total to 29.5 million.
Like Google
Hastings said in an interview Wednesday that Netflix aims to draw 80 percent of its subscribers from outside the U.S., a customer profile that's similar to other online companies such as Google Inc.
Given the company's target of 60 million to 90 million in the U.S., that would mean an international subscriber roster of 240 million to 360 million accounts, and a total of up to 450 million subscribers worldwide if the company reaches its targets.
"We want to get to those kinds of ratios for our membership," Hastings said, adding that it would be difficult for Netflix because it is a pay service. The company has projected 74.3 million total users at the end of the fourth quarter.
Netflix is still working to create a consistent lineup of programs across the globe, using its Netflix Originals -- some made by other studios -- as a foundation and adding some local content, Hastings said. The company lacks global rights to some of its first originals, like "House of Cards," but now negotiates for broader licenses in most deals.
"We want citizens of the world to have the same content," Hastings said.
The company doesn't break out subscriber totals for countries besides the U.S., though it has said it has more than 5 million in South America. Netflix will produce original series in French, Italian and Portuguese next year.
U.S. law prevents Netflix from operating in a handful of places including North Korea, Syria and Crimea, Hastings said.
China Talks
The company faces challenges in China, where a local partnership is essential given government controls over licensing for online content, and many potential allies already have competing businesses. Alibaba Group Holding Ltd. recently acquired full control of Youku Tudou Inc., one of the largest video streaming services in the country, while Baidu Inc. and Tencent Holdings Ltd. own popular video services.
Netflix is talking to those companies, as well as the to government, Hastings said.
Prospects in China may provide Netflix investors something to look forward to, said Paul Sweeney, an analyst with Bloomberg Intelligence.
"This stock just keeps chugging along," Sweeney said. "Assuming they will be able to find a reasonable way in, the bulls will say that the the pending launch of China will support the stock for the remainder of 2016."
Before it's here, it's on the Bloomberg Terminal.
LEARN MORE