U.S. Stock Futures Slump as Weakening Yuan Roils Equity Markets
U.S. stock-index futures fell as China's yuan sank to a five-year low in offshore trading, intensifying concern about the outlook for the world's second-biggest economy.
Contracts on the Standard & Poor's 500 Index due in March dropped 0.9 percent to 1,994 at 1:03 p.m. in Tokyo, after retreating as much as 1.3 percent. Futures slid with Asian stocks as China set a weaker fix for its currency and North Korea conducted its fourth nuclear test. China has set the tone for global markets so far in 2016, with Monday's rout in the nation's equities spurring the sixth-worst start to a year for the S&P 500 since 1932.
"This isn't good for the rest of the world. Until China stops weakening the yuan, global markets will struggle to stabilize," said Koichi Kurose, Tokyo-based chief market strategist at Resona Bank Ltd. "The Chinese authorities may be trying to prop up the economy by boosting exports, but while that'll help one part of China's economy, it comes at the sacrifice of someone else."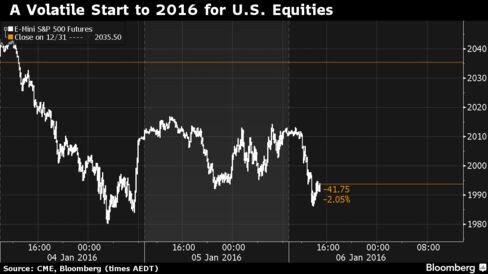 The People's Bank of China lowered the yuan reference rate by 0.22 percent, the most since Nov. 3, to 6.5314 per dollar. The gap between the yuan rate inside China and that for the currency traded offshore expanded, underscoring speculation the government faces pressure to devalue its currency to aid the economy. The move comes as Chinese authorities have stepped up efforts to stabilize volatile markets.
"The market was very much caught off guard, it was a big surprise," said Sean Callow, a foreign-exchange strategist at Westpac Banking Corp. in Sydney. "The impression is that upside risks on the dollar-yuan rate have grown further, but that investors will be kept on their toes day-to-day.
Nuclear Test
North Korea detonated a hydrogen device at an underground test site in the far northeast, the regime's official news agency said. The explosion was first detected as a magnitude 5.1 earthquake by the U.S. Geological Survey. The test is the second since Kim Jong Un became supreme leader, and is a setback for U.S. and Chinese efforts to restart disarmament talks.
Sentiment has turned more cautious on U.S. stocks amid the Federal Reserve's first interest-rate increase since 2006, and forecasts for little to no growth in corporate earnings before the spring. Strategists at Citigroup Inc. cut their view on U.S. equities to underweight Tuesday, saying that while they're not especially bearish, they see better opportunities in Europe and Japan. "After outperforming for six consecutive years, maybe U.S. equities are due a breather," the firm wrote in a note.
The main U.S. equity benchmark slipped 0.7 percent in 2015 to cap its first annual drop since 2011, after reaching a record in May and suffering its first correction in four years in August amid concern that China's slowdown would crimp global growth. The Chicago Board Options Exchange Volatility Index, a measure of market turbulence known as the VIX, jumped nearly 14 percent Monday, the most since Dec. 11 when the S&P 500 dropped 1.9 percent.
Investors will be looking for signs of relief in U.S. economic data. Reports this week include data on services industry growth and factory activity. Investors will be particularly focused on minutes from the Fed's December meeting and the government's monthly jobs report on Friday.
Before it's here, it's on the Bloomberg Terminal.
LEARN MORE