Discounts seen needed to beat 2015's 17.5 million auto sales

Jaguar Land Rover, Volvo led gains in year aided by cheap fuel
With record U.S. vehicle sales now on the books for 2015, automakers are propelling into the new year with a sense that they'll have to work harder to see more growth ahead.
Carmakers dialed up discounts in 2015's second half to win market share as Americans surged into showrooms amid cheap gasoline and a growing job base. The gambit paid off: Full-year sales beat the standard set 15 years ago, rising 5.7 percent to 17.5 million cars and light trucks. Analysts and executives alike project another record this year -- although with slower growth -- provided that the dealmaking keeps pace.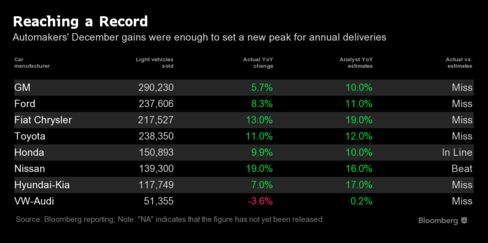 "The gains were quite extraordinary in 2015 and they will be harder to come by this year," said Mark Wakefield, managing director and head of the automotive practice for consultant AlixPartners. For sales to rise by the 300,000 he projects for 2016, it would be "on the back of higher incentives and a tougher market in which to compete."
Look no further than last month's results for the power of incentives: Though the industry results set a record for a December, sales didn't rise as much as analysts predicted for General Motors Co., Ford Motor Co., Fiat Chrysler Automobiles NV and most other rivals. One reason for the shortfall, Ford said, is that automakers kept their incentives even with November after pulling the trigger early on year-end dealmaking. Most automakers' stocks fell on Tuesday except for Nissan Motor Co., whose sales led the pack with a 19 percent gain for the month.
Even with the missed December estimates, there was no shortage of superlatives for the month and the year it capped. Among highlights as reported by the companies or researcher Autodata Corp.:
December's sales rose 9 percent to deliver a 17.3 million annual pace.
Fiat Chrysler logged a record 69th straight month of rising sales.
Full-year sales topped the previous pinnacle of 17.4 million set 15 years ago. It was the sixth straight year of growth, the longest run since World War II.
The surging popularity of luxury SUVs drove up sales of Jaguar Land Rover by 26 percent and Volvo Cars by 24 percent in 2015.
Among the top six automakers in the U.S., Fiat Chrysler had the best year with a 7.3 percent rise in sales, exceeding the industry's gain.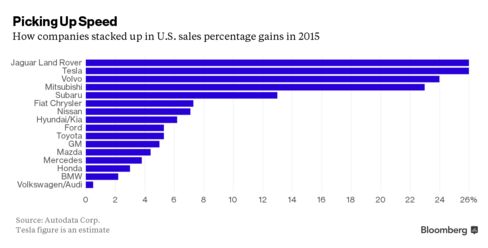 Americans were more flush in a U.S. economy that had the lowest unemployment rate since 2008 and added more than 200,000 jobs in each of the past three months, if estimates for December hold true in this Friday's monthly jobs report. As a sign of confidence, the Federal Reserve raised its benchmark interest rate from near zero last month.
Pickup, minivans and SUVs gained market share, rising to about 56 percent of sales from 52 percent in 2014. Regular gasoline cost an average $1.99 a gallon as of Jan. 4, down about 9.5 percent from a year ago, auto club AAA said.
The annual sales were more than two-thirds better than during the crisis year of 2009, when the Obama administration led GM and Chrysler through bankruptcy restructurings.
Incentive Spending
Even if automakers keep the deals flowing to sustain growth in 2016, the companies still will be in better shape than in the last record year in 2000, when labor contracts and other fixed costs forced them keep plants producing and required deep price cuts to move the metal.
"The automakers are far healthier financially than they were back then," said Michelle Krebs, a senior analyst with AutoTrader.com who estimates incentives rose to about $3,000 per vehicle from July to December, reaching pre-recession levels. "Even if sales dip a little below 2015 or stay about the same, we don't see that as unhealthy. That is still a very strong market."
Investors still didn't reward the automakers equally. Fiat Chrysler and Nissan each gained more than 20 percent as the best-performing stocks among major automakers in 2015, based on U.S. shares or American depositary receipts. Pulling up the rear were Volkswagen AG, whose U.S. shares plummeted 28 percent because of a cheating scandal, and Ford with a 9.1 percent decline.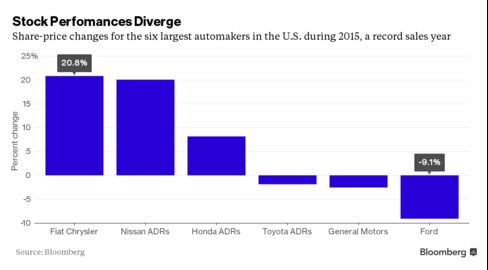 Ford investors have been disappointed there hasn't been a bigger profit payoff in 2015's second half, once the factory changeover was complete to build its aluminum-bodied F-150 pickup. The company fell short of analysts estimates in the third quarter and forecast a less profitable fourth quarter because of higher expenses and marketing costs.
Slowing growth and rising incentives may add pressure on profits industrywide, said Jeff Schuster, an analyst with LMC Automotive in Southfield, Michigan.
"This will be the year that will really test the discipline of the manufacturers," Schuster said. "When the industry is growing at the pace it's been growing, it's easy to have everyone succeed. As it slows, you'll start to see some separation between those that are performing well and those that are not."
Before it's here, it's on the Bloomberg Terminal.
LEARN MORE