Hayman's Bass Sees Energy as Investment Opportunity as Glut Ends
Hedge fund manager is interviewed on `Wall Street Week'

He sees oil oversupply becoming a deficit as output is cut
Kyle Bass, the hedge fund manager who made half a billion dollars betting against subprime-mortgage securities in 2007, says the time is ripe to invest in energy companies as the global oil surplus reverses.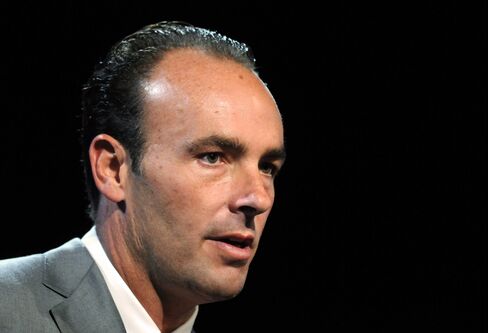 "We're going to go from a glut to all of a sudden a deficit, and the world's not ready for a deficit," Bass, the founder of Hayman Capital Management, said in an interview with "Wall Street Week," an excerpt of which was posted on the Internet. "If you're going to allocate capital for the next three to five years you should do it now" or within the next six months.
West Texas Intermediate crude has declined more than 30 percent this year, falling below $35 a barrel in December, the cheapest since the financial crisis. Bass predicted that the U.S. is likely to reduce output by 1 million barrels per day in the next 12 months.
"Wall Street Week" is produced by SkyBridge Media, an affiliate of SkyBridge Capital, the fund-of-funds business founded by Anthony Scaramucci. SkyBridge, which sometimes has other business relationships with the show's participants, advertisers and sponsors, pays Fox stations in key markets to broadcast the show and also streams it online.
Before it's here, it's on the Bloomberg Terminal.
LEARN MORE