Germany's DAX Beats World With More Gains Expected
German stocks set 27 records and slid to bear market in 2015

Strategists call for 9.8% gain in 2016 amid weak euro, oil
German stocks outperformed European and global peers in 2015. Investors are betting on more gains next year.
The DAX Index climbed to 27 fresh peaks this year before tumbling into a bear market, and volatility more than doubled. Still, it's up 9.6 percent in 2015, beating the Stoxx Europe 600 Index and the MSCI All Country World Index.
Strategists predict the benchmark will rally in 2016 on optimism that low oil prices and a weak euro will benefit companies. While exporters got an early boost from the European Central Bank's quantitative-easing measures this year, a rout triggered by China's surprise currency devaluation and Volkswagen AG's emissions scandal wiped out as much as $368 billion from the value of German companies. Since a September low, the DAX has recouped about half those losses amid more swings.
"It was a very good year if you were disciplined and stuck to your investment themes," said Michael Woischneck, an equities fund manager who oversees the equivalent of $156 million at Lampe Asset Management in Dusseldorf, Germany. "Oil and the euro being where they are should support growth. We could see another good year for the DAX in 2016."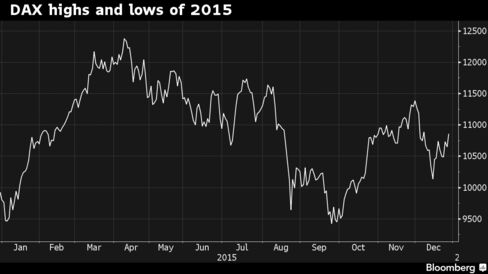 An exchange-traded fund tracking the index has seen its biggest inflows since June this month, indicating an end to the turbulence that preceded it. The nation's economy is forecast to grow 1.8 percent in 2016, compared with 1.7 percent for the euro area.
The DAX will rally 9.8 percent to 11,792 next year, according to the average of 13 strategist projections compiled by Bloomberg. Natixis SA's prediction calls for an 18 percent surge.
The ECB said earlier this month it will extend its quantitative easing until 2017, a program that has helped weaken the euro from $1.21 at the start of the year to $1.09. Currency forecasters expect the common currency to slide further to $1.05 and stay at that level for the first three quarters of 2016.
Some investors are concerned that German companies' reliance on global markets will leave them more exposed to a slowdown. Among the possible causes are weaker-than-expected growth in the U.S. or a worsening of the Chinese economy, says Michael Kapler, an equities manager at Mittelbrandenburgische Sparkasse. The two countries are among Germany's biggest trade partners.
"If global growth slows down then you could easily see the DAX around 9,000 or even lower," he said by phone from Potsdam, Germany. "I'm not quite sure if this is the environment where you should put big bets on equities. What you have seen with volatility, I would expect to see in 2016 and maybe 2017 as well."
German stocks have seen greater turbulence than their euro-area peers this year. The VDAX Index of volatility expectations for the DAX has climbed 8.5 percent, compared with a 15 percent decline for the VStoxx Index. The VDAX surged as much as 104 percent from a February low through September.
The DAX has rallied 11 percent this quarter, double the gains for the Stoxx 600. Adidas AG, which gets more than two-thirds of its revenue outside western Europe, has jumped 56 percent this year, while Infineon Technologies AG, which gets most of its sales outside Germany, has surged 53 percent.
"We are confident on the German index," said Herbert Perus, head of equities at Raiffeisen Capital Management in Vienna. "Globally, people are thinking again about investing into Europe. The first step is to take a stake in the German market because it's very liquid and has a lot of world leaders in various different markets. This is a very good sign for the overall European market for the year 2016."
Before it's here, it's on the Bloomberg Terminal.
LEARN MORE