U.S. Stocks Drop With Global Equities as Oil Falls, Dollar Gains
S&P 500 trims annual gain after rising to three-week high

Oil falls as American stockpiles head for record annual growth
Global stocks extended their first annual slide in four years as oil resumed a retreat amid data showing an increase in American inventories. The dollar gained versus commodity currencies.
U.S. stocks fell from a three-week high amid trading that was more than 40 percent below the 30-day average. European equities extended their worst December drop since 2002, while emerging-market equities sank as oil fell below $37 a barrel in New York on data showing an increase in American inventories. The Russian ruble and Brazil's real led a retreat in currencies. The dollar strengthened.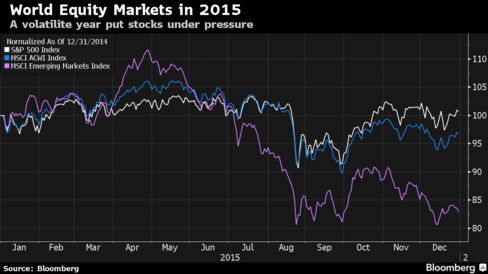 "There just aren't enough people at the switch today," said Matt Maley, an equity strategist at Miller Tabak & Co LLC in New York. "We had a nice rally yesterday, and oil is down, so maybe investors are thinking they'll take some chips off the table.vYear-end is even thinner than it usually is because it's coming before a long weekend."
Global equities are heading for their first decline in four years as a slowdown in the Chinese economy fueled the biggest retreat in raw materials prices in seven years at the same time the Federal Reserve ended its zero interest-rate policy. The Bloomberg Commodity Index is down 25 percent in 2015, while global bonds have returned 0.8 percent, according to the Bank of America Merrill Lynch Global Broad Market Index. The Standard & Poor's 500 Index clung to a 0.2 percent annual gain, while emerging-market equities have plunged 17 percent.
Stocks
The S&P 500 fell 0.7 percent at 4 p.m. in New York after rallying 1.1 percent Tuesday. The index extended losses in afternoon trading, with declines halting at the gauge's average price for the past 200 days. The benchmark has lost 0.8 percent in December amid the Fed's first rate increase in nearly a decade.
"There are so few players out there, so few books open and so few new positions being taken, so anything could happen in an illiquid environment," said Andrew Brenner, head of international fixed income for National Alliance Capital Markets in New York. "I don't see us giving back yesterday's gains, we might give back some, but I tend to think the market will be higher today."
If the S&P 500 closes 2015 higher, it will be its fourth consecutive annual gain, while a loss would make it the worst year since 2008. The index has risen as much as 3.5 percent in the year and was down 9.3 percent at its low in August. It closed yesterday 2.5 percent away from an all-time high set in May.
The Stoxx Europe 600 Index lost 0.5 percent, after climbing 1.4 percent on Tuesday. The number of shares changing hands was about half the 30-day average. Markets will shut on Friday for New Year. Some including Germany, Switzerland and Italy, will also close Thursday for New Year's Eve, while others will have shorter trading hours.
Declines for European equities left them 5 percent lower for the month. While stocks recouped some losses in the final weeks of the year, that hasn't been enough to reverse a slide earlier this month stoked partly by disappointing European Central Bank stimulus measures. Still, the Stoxx 600 is heading for its fourth straight annual advance.
Commodities
Oil fell after industry data showed an unexpected increase in crude inventories last week. West Texas Intermediate dropped 3.4 percent to settle at $36.60 a barrel. The contract is down 31 percent this year. Brent slid 2.9 percent to $36.68.
U.S. Energy Information Administration data showed an unexpected build in U.S. crude stockpiles, adding to the glut of supplies that's pushed prices down below $40 a barrel.
Natural gas futures retreated for the first time in five days after U.S. weather forecasts for January predicted milder weather, bolstering concern that a supply glut for the heating fuel will persist. U.S. natural gas fell after reaching a six-week high Tuesday, as February futures dropped 6.6 percent to settle at $2.214 per million British thermal units.
Bonds
U.S. 10-year Treasuries were little changed, with yields at 2.30 percent. The rate on the notes jumped eight basis points in the previous session. Demand for government securities is waning as the Federal Reserve begins raising interest rates.
The Treasury's final three auctions of coupon-bearing notes this year drew some of the lowest investor demand since the financial crisis with the Federal Reserve on course to raise interest rates several times next year, potentially lowering the value of the debt.
Puerto Rico will default on about $37 million in bond payments due Jan. 1 and divert revenue to make others, escalating a conflict with investors as Governor Alejandro Garcia Padilla seeks to restructure a $70 billion debt burden.
Emerging Markets
The MSCI Emerging Markets Index fell 1.1 percent for a third day of losses that brought its retreat this year to 17 percent, the most since 2011. All 10 industry groups retreated Wednesday, with energy shares leading declines.
Sentiment toward emerging-market assets turned more bearish as oil slumped and concern lingered that the slowdown in China will affect global growth. Chinese shares in Hong Kong extended the biggest sell-off in Asia this year on concern the nation's deepening economic slowdown will sap corporate earnings. After China's suspension of cross-border yuan operations, the currency's exchange rates at home and abroad diverged by the most in three months.
Russia's ruble and the South African rand weakened at least 1.6 percent versus the dollar, leading declines in emerging currencies, which slid for a third day. A Bloomberg gauge of 20 emerging currencies slid 0.6 percent for a third day of losses. Brazil's real added to a fifth annual drop as oil prices tumbled and an increase in the minimum wage fueled concern that the country's fiscal situation will worsen.
Before it's here, it's on the Bloomberg Terminal.
LEARN MORE