Global Bank-Stock Weakness Poses Challenge to Fed's Policy Plans
Industry-index ratio to MSCI World sets 20-year low this week

BofA's Hartnett sees indication of `deflationary expansion'
Bank stocks are signaling the Federal Reserve may struggle to tighten credit after keeping interest rates near zero for seven years, according to Michael Hartnett, chief investment strategist at Bank of America Corp.'s Merrill Lynch unit.
The chart below tracks the ratio of the MSCI World Banks Index, consisting of 98 lenders based in developed markets worldwide, to the broader MSCI World Index. Hartnett made a similar comparison yesterday in a report.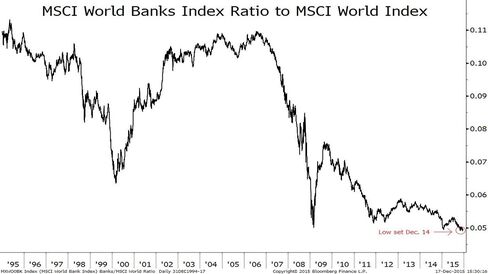 After peaking in August 2009, the ratio tumbled as much as 30 percent. The indicator reached the lowest reading in more than 20 years on Dec. 14, two days before the Fed lifted its key rate by 0.25 percentage point and policy makers indicated the rate will climb a full point next year.
The relatively weak performance of bank stocks indicates the Fed is raising rates during a "deflationary expansion," Hartnett wrote. The situation "puts great onus on corporate earnings to support asset prices in 2016," the New York-based strategist wrote.
Analysts expect earnings for companies in the Standard & Poor's 500 Index to increase 7.1 percent next year, according to data compiled by Bloomberg. The projected growth contrasts with the 0.6 percent drop foreseen for this year, primarily because of falling profit at energy companies.
"Rising rates and falling profits are not a good combination," Hartnett wrote, especially as increased borrowing costs for companies discourage them from buying back shares. He added that he's likely to call for investors to become "sellers of risk" early next year.
Before it's here, it's on the Bloomberg Terminal.
LEARN MORE