U.S. Stocks Tumble With Crude as Bonds Rise, Dollar Weakens
S&P 500 falls to lowest in two months as Treasuries rise

Copper, gold climb higher as crude oil extends decline
U.S. stocks tumbled to their lowest level in two months, while the dollar trimmed a weekly gain as investors focused on prospects for a slowdown in global growth and continued to adjust to the end of near-zero interest rates in America.
The Standard & Poor's 500 Index pushed its worst two-day slide since Sept. 1 to 3.3 percent and erased its gain for the week. The Dow Jones Industrial Average tumbled more than 350 points Friday. Government bonds rallied as West Texas Intermediate crude traded near a six-year low, damping inflation expectations. Brazil's real and stocks fell amid speculation that the president will name a new finance minister.
The S&P 500 extended declines in the final 15 minutes of trading and volume soared Friday because of a quarterly event known as quadruple witching, when futures and options contracts on indexes and individual stocks expire. More than 12.5 billion shares changed hands across American exchanges, 71 percent above the three-month average and the most since the height of the summer selloff on Aug. 24.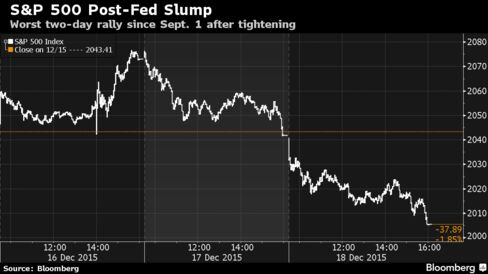 "It's a sloppy market," Bernie Williams, chief investment officer at San Antonio-based USAA Federal Savings Bank, said by phone. "The world economy is slowing and China has taken some of the oil demand off the table so you've seen a huge wipe out in commodity stocks. Investors are wondering if this is really indicative of slowing economy or if there is something deeper here."
While this week's Fed rate decision removed a measure of uncertainty on financial markets and added to optimism that the world's largest economy is on firm footing, it did little to allay concern that global growth remains vulnerable to a slowdown in China and a related rout in commodities. Oil continues to trade near levels last seen during the global financial crisis, stoking worry that junk-rated energy producers won't be able to remain solvent.
Stocks
The S&P 500 fell 1.8 percent at 4 p.m. in New York, as it lost 0.3 percent for the week. The index yesterday erased Wednesday's post-Fed gains as crude oil slid and commodities deepened a drop. It's fallen 3.6 percent in December and is down 2.6 percent in 2015.
The Stoxx Europe 600 Index lost 1 percent. The equity benchmark cut its first weekly advance in three to 1.5 percent and is set for its worst December since 2002. After a 14 percent jump from its September low through end-November, the gauge lost more than 6.3 percent this month amid disappointing stimulus measures from the European Central Bank and a deepening of the rout in commodities.
Japan's Topix sank the most in two weeks and its 10-year bond yield dropped to the lowest since January as the BOJ announced a new program of exchange-traded fund purchases and plans to extend the maturities of its government debt holdings.
Currencies
A gauge of the dollar had its best week since the start of November as the Fed's decision prompted traders to bring forward expectations since last Friday for the next increase. The U.S. currency strengthened against 12 of 16 major peers this week as futures traders raised to 49 percent the odds of an April rate increase.
Richmond Fed President Jeffrey Lacker said during a panel discussion in North Carolina that the economy has stabilized and is in a good position going forward.
The U.S. currency was at $1.087 per euro, 1.1 percent higher this week.
The Canadian dollar fell to C$1.39 per U.S. dollar the first time since 2004 after economic data continued to trail forecasts, stoking speculation the Bank of Canada may have to do more to bolster growth.
Japan's currency jumped 1 percent to 121.29 per dollar after the BOJ kept its main monetary stimulus target unchanged while outlining operational changes.
Commodities
The Bloomberg Commodity Index, which measures the returns on 22 raw materials, rose 1.1 percent after recording its lowest close since March 1999. The index retreated 1.2 percent in the week.
Industrial metals climbed, paring weekly losses, after a report by industry consultancy SMM that Chinese copper producers plan to hold a meeting Saturday to discuss building inventories of the metal. Copper futures surged 3.3 percent to $2.111 a pound. Gold climbed 1.4 percent.
Oil in New York lost 1.1 percent, after rallying as much as 1.8 percent, to fall back below $35 a barrel, after Baker Hughes Inc. reported that the number of active oil rigs in the U.S. climbed this week. Futures capped a third weekly drop with a 2.5 percent slide.
Bonds
The yield on 10-year Treasury notes fell two basis points to 2.20 percent. The rate climbed eight basis points in the week, with all of the advance coming in the first three days.
Treasuries volatility fell to the lowest this year as the Fed's decision removed uncertainty from fixed-income markets. Bank of America Corp.'s MOVE Index, which measures price swings in U.S. government debt, slid to 67.67 basis points Thursday, the least since December 2014.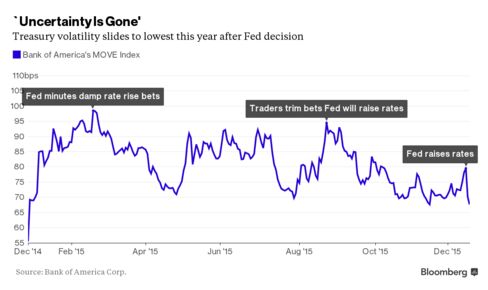 Emerging Markets
Brazil's real tumbled against other emerging market currencies, while the Ibovespa stock gauge fell 3 percent amid speculation that President Dilma Rousseff will name Planning Minister Nelson Barbosa to replace Joaquim Levy as finance minister.
Emerging-market stocks fell for the first time in four days, paring a weekly gain, while currencies advanced as investors increased bets that the Fed will tighten gradually.
The MSCI Emerging Markets Index dropped 1.1 percent, trimming its weekly increase to 2.1 percent, the best since Nov. 20. Valuations for the benchmark gauge are just below their 10-year average even as analysts' projections for earnings have fallen to a six-year low.