$100 Billion Evaporates as World's Worst Oil Major Plunges 90%
Ecopetrol's oil production has fallen short of forecasts

Investors have soured on company once worth more than BP
Colombia is nursing paper losses of more than $100 billion after its oil boom fell short of expectations, wiping out 90 percent of the value of what was once Latin America's biggest company.
From being the world's fifth-most valuable oil producer at its zenith in 2012, worth more than BP Plc, state-controlled Ecopetrol SA now ranks 38th. Its market capitalization has fallen to $14.5 billion, down from its peak of $136.7 billion.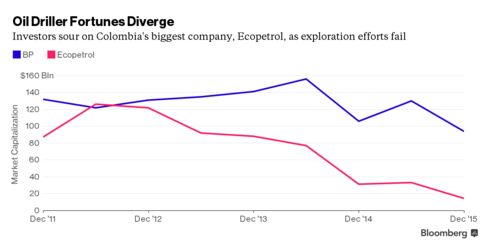 "They just haven't found oil, it's as simple as that," Rupert Stebbings, the managing director of equity sales at Bancolombia SA, said from Medellin. "The whole oil sector got massively over-bought, and people assumed that one day they'd hit an absolute gusher."
As the army wrested back territory from Marxist guerrillas over the last decade and a half, opening up more land for exploration, the outlook was bright for the oil sector in Colombia, which borders Venezuela, the nation with the world's largest reserves. Ecopetrol's share price soared to "irrational levels" as investors bet on surging output that then failed to materialize, Stebbings said.
With shares in the oil producer still high, the government opted in 2013 to sell a stake in electricity producer Isagen SA rather than Ecopetrol.
Finance Minister Mauricio Cardenas, who sits on the board of Ecopetrol, said in an August 2013 interview that the government didn't want to sell a further stake in the company because its growth prospects were better than Isagen's. Since then, Isagen shares have risen 4.2 percent, while Ecopetrol's have fallen 74 percent. The Isagen stake sale has yet to take place due to a series of legal challenges.
Over the past year, Ecopetrol shares are down 55 percent in dollar terms, the worst performance among global oil drillers with a market capitalization over $10 billion. The company's original 2015 production target of 1 million barrels of oil equivalent was changed to 760,000 barrels.
Ecopetrol's growth in oil production since 2006 is among the world's best, with a 24 percent success rate in exploration in 2014, the company said in an e-mailed response to questions. The Kronos-1 and Orca-1 discoveries in the Colombian Caribbean "opened a new exploration frontier," it said.
Despite some bright spots, including the gas discoveries, exploration budget cuts along with already-meager reserves are worrying, said Corredores Davivienda equity analyst Francisco Chaves.
Slumping oil prices may force the company to downsize its reserves next year, according to Chaves. A foray into Angola last year proved to be an expensive failure, while government hopes that shale exploration could help boost reserves no longer look viable at current oil prices.
"The U.S. may have the ability to adapt to low prices and continue with its shale oil and gas industry," Ecopetrol Exploration Vice President Max Torres said in an interview Dec. 3. "But for a new industry like ours it's very difficult. It's for the future, when prices improve."
Before it's here, it's on the Bloomberg Terminal.
LEARN MORE