Sanofi Seeks $25 Billion Deal in Asset Talks With Boehringer
Boehringer's consumer-health assets, Sanofi's Merial in deal

Sanofi plans to buy back shares with part of proceeds
Sanofi is in exclusive talks to swap assets with Germany's Boehringer Ingelheim GmbH in a 22.8 billion-euro ($25 billion) transaction that would be the largest for the French drugmaker in more than a decade.
Sanofi's animal-health business, valued at 11.4 billion euros, and Boehringer Ingelheim's consumer-health operations, at 6.7 billion euros, would be traded, according to a statement on Tuesday. Closely held Boehringer Ingelheim would also pay Sanofi 4.7 billion euros in cash.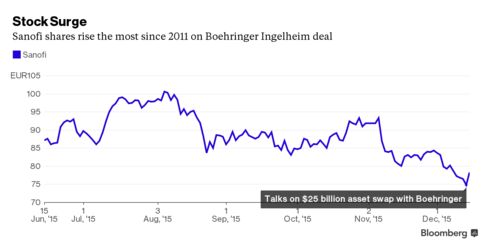 Shares of Sanofi jumped the most in more than four years. A deal would help Chief Executive Officer Olivier Brandicourt reshape the Paris-based company, which is poised for sluggish earnings growth over the next two years amid declining sales of its best-selling insulin. The swap would give Sanofi the largest market share in the fragmented global consumer health-care sector, while Boehringer Ingelheim would become the world's second-largest animal-health company.
Brandicourt, who joined Sanofi in April, said last month that he would consider options for assets including the Merial animal-health unit and the European generics operations as he sought to cut costs by 1.5 billion euros and focus on fewer priorities.
Sanofi climbed 5.7 percent to 78.97 euros as of 4:48 p.m. in Paris trading, the biggest intraday gain since October 2011. The stock has gained 15 percent over the past year, including reinvested dividends, compared with a 15 percent advance in the Bloomberg Europe Pharmaceutical Index.
Deal-Making Lull
Sanofi, itself the result of dozens of acquisitions, has had a lull in deal-making since the 2011 purchase of Genzyme, the world's biggest maker of treatments for rare genetic diseases, for $20.1 billion.
Sanofi's Maalox and Lactacyd brands would join Boehringer Ingelheim's Dulcolax laxative, cough medicines Mucosolvan and Bisolvon in the combined unit. Boehringer Ingelheim's business in China would be excluded from the proposed transaction. Sales for the rest of the business selling over-the-counter products was probably about 1.6 billion euros for 2015, the companies estimated. The deal would give Sanofi a bigger foothold in Germany and Japan, where its presence is limited.
The transaction, which the two companies aim to complete in the fourth quarter of 2016, is projected to add to Sanofi's earnings from 2018. Sanofi plans to buy back shares using some of the proceeds, the French drugmaker said.
Animal Health
Merial and Boehringer Ingelheim's combined animal health-care operations would have had sales of about 3.8 billion euros this year. The business would include the brands Frontline, Heartgard and GastroGard from Merial, and Circoflex and Metacam from Boehringer Ingelheim. Sanofi in March 2011 had abandoned plans to combine its animal-health business with Merck & Co.'s, citing the complexity of the proposed deal.
Lazard Ltd. advised Sanofi on the transaction, while financial advisory firm Rothschild and Bank of America Corp. worked with Boehringer Ingelheim.
The deal is similar to an asset swap GlaxoSmithKline Plc and Novartis AG completed this year. Glaxo sold cancer drugs to Novartis and bought Novartis's vaccine business. The two drugmakers also forged a consumer-health products company to be majority-owned by Glaxo. The three transactions together were valued at about $28.5 billion.
Before it's here, it's on the Bloomberg Terminal.
LEARN MORE