Forget About Junk Bonds, This Is the New Credit-Equity Disconnect Investors Should Be Watching
Can contagion spread to stocks?
The bond market is often dubbed the "smart money," with fluctuations in fixed income believed to portend broader market moves.
But in the case of recent carnage in junk bonds, the so-called smart money was actually the slow money, according to strategists at Goldman Sachs.
Whether one uses the Markit CDX North American High Yield Index, a basket of derivatives tied to 100 junk-rated companies, or the HYG exchange-traded fund as a proxy for the performance for the debt sold by companies with riskier balance sheets, the stocks of these corporations were what led the way down, the strategists contend.
Goldman's John Marshall and Katherine Fogertey reached this conclusion after comparing the performance of these proxies for credit to a basket of stocks properly reflecting those indexes.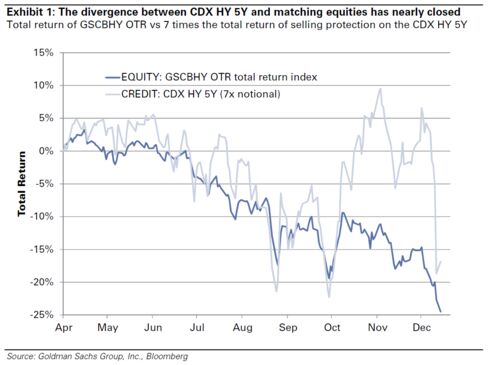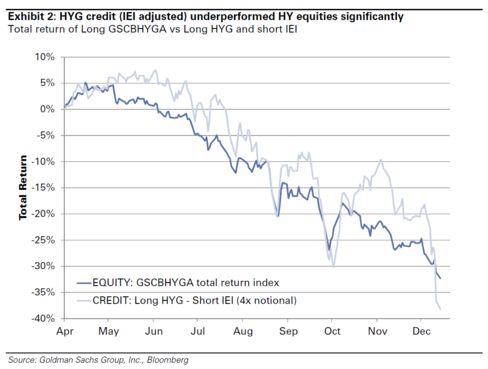 "It is critical to estimate the degree to which the equity market has already priced the weakness to determine the potential risks to equity going forward," the two wrote in a note published on Tuesday. "Our analysis shows that the weakness in high-yield credit was foreshadowed by weakness in the equities of high-yield companies," they said.
Depending on which barometer you prefer, junk bonds have either nearly caught up with or slightly overshot the softness in their corresponding equities.
Because of methodological challenges involved in making direct comparisons between high-yield bond spreads and the Standard & Poor's 500-stock index, the pressing concern for equity investors is how much the current weakness in junk bonds infects the market for investment-grade bonds sold by companies with healthier balance sheets (on the eve of a potential rate hike from the Federal Reserve, no less).
The "new divergence" highlighted by Goldman Sachs—a burgeoning disconnect between weaker investment-grade credit spreads and relatively stronger equities in December—is a potential risk to the performance of the S&P 500 in the short term, the strategists note.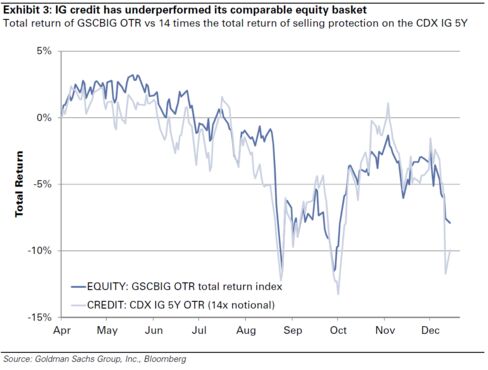 Even amid the downdraft in the S&P 500, stocks in the benchmark index have managed to outperform investment-grade credit by 4 percent over the past two weeks, a significant divergence compared to the relative performance of the two over the past five years.
"Due to the substantial overlap between names in the investment-grade index and the S&P 500, we see this overvaluation in investment-grade equity versus credit as meaningful for S&P 500 equity investors," they concluded.
While gated bond funds and multiyear lows have turned all eyes to the high-yield segment of the corporate credit market, equity investors should be paying closer attention to whether contagion spreads to investment grade credit or whether it manages to remain relatively isolated, according to Goldman Sachs.
Before it's here, it's on the Bloomberg Terminal.
LEARN MORE