`Old Man Winter' Gone Missing, Leaves Coal and Gas in Dumps
Natural gas prices are trading at the lowest level in 14 years

Utilities may soon seek coal delivery deferrals, BB&T Says
The spring-like start to this year's U.S. winter is wreaking havoc on heating fuels.
Mild weather that's blanketed a swath of the country from Chicago to New York since the start of December has prices for coal and natural gas, the two largest sources of power generation, in the doldrums. That's likely to persist as the record-breaking warm spell spills into January, according to Commodity Weather Group LLC, a Bethesda, Maryland-based forecaster.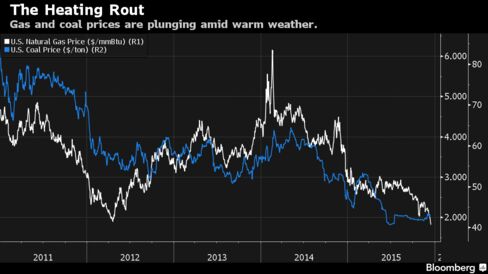 Record-breaking temperatures for this time of year in some parts of the U.S. are threatening to exacerbate already oversupplied markets for both coal and gas. Futures touched the lowest level since 2001 today and coal settled at a record seasonal low on Monday.
"The weather's really not cooperating," said Dan Flynn, a trader at Price Futures Group in Chicago. "Maybe if we start cranking the air conditioners, that'll get things going."
Gas for January delivery settled at $1.822 per million British thermal units on the New York Mercantile Exchange, the lowest since 1999. Coal settled at $43.05 a ton on Monday, a record seasonal low.
Gas inventories totaled 3.88 trillion cubic feet as of Dec. 4, about 6.5 percent above the five-year average, data from the U.S. Energy Information Administration show. Coal, already facing a 100-million-ton drop in demand because of cheap gas and environmental regulations, is also piling up in utility yards, said Mark Levin, an analyst at BB&T Capital Markets in Richmond, Virginia.
"Inventories are building very fast and so are prospects" for deferred deliveries, Levin said in a report Tuesday.
Before it's here, it's on the Bloomberg Terminal.
LEARN MORE