Wal-Mart May Be a Big Winner as Oil Drops Below $35 a Barrel
Its shoppers spend bigger portion of their budgets on fuel

The chain's trucking fleet also will benefit from cheaper gas
As oil tumbles below $35 a barrel for the first time since 2009, Wal-Mart Stores Inc. is looking like one of the big winners.
While all retailers stand to benefit from low gas prices putting more cash in consumers' pockets, Wal-Mart's core customers -- who earn about $35,000 a year -- spend a bigger share of their income on fuel, according to Nomura Securities analyst Robert Drbul.
"Wal-Mart is positioned well to outperform in 2016 as our favorite low oil-and-gas play," Drbul said in a report Monday.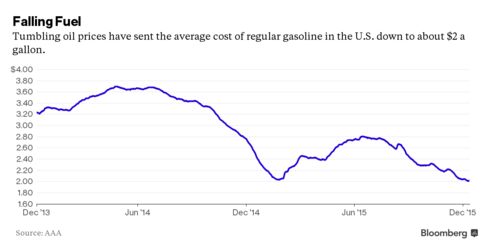 Lower gas prices also may coax shoppers into making more frequent trips to the store, giving Wal-Mart a boost from repeat visits. The average driver will save about $38 a month on gas in the fourth quarter, according to data from Bloomberg Intelligence. Wal-Mart already has seen its crowds rebound this year, with traffic increasing for the past four quarters.
In total, consumers are spending 80 percent of their gas savings on goods and services, according to an October report from the the JPMorgan Chase & Co. It analyzed 57 million credit- and debit-card purchases.
Cheaper gas will reduce Wal-Mart's costs as well. Unlike most retailers, which outsource ground transportation to trucking companies, Wal-Mart has its own fleet of drivers. With more than 6,500 trucks that deliver 80 percent of its merchandise directly from Wal-Mart's distribution centers to its stores, fuel prices should have a big impact, Drbul said.
Savings from gas could be a much-needed lift for Wal-Mart. Its shares have fallen 30 percent this year, with a third of the decline coming since mid-October when the company said profit would drop as much as 12 percent next year because of higher labor costs and more spending on e-commerce. Wal-Mart rose 1.7 percent to $60.39 at the close in New York, its biggest one-day gain in almost a month.
Before it's here, it's on the Bloomberg Terminal.
LEARN MORE