Shell's Record Takeover of BG Clears Final Antitrust Hurdle
China's Ministry of Commerce gives unconditional approval

Oil's drop has pushed BG's discount to Shell's offer to 9.1%
Royal Dutch Shell Plc got clearance from antitrust authorities in China for the takeover of BG Group Plc, removing the final regulatory hurdle for its biggest-ever deal.
The clearance from China's Ministry of Commerce follows similar approvals from authorities in Brazil, the European Union and Australia. BG and Shell will now seek assent from their shareholders and plan to complete the transaction in early 2016. About 2,800 jobs, or 3 percent of the total workforce of the two companies, will be cut after the combination, Shell said in a separate statement.
Shell's takeover of BG, valued at about $70 billion when it was announced in April, has come under scrutiny as crude prices have slumped below $40 a barrel from about $60 when the deal was announced. Oil's drop in the past week has widened the discount of BG's shares to Shell's offer price, suggesting increased risk of the deal completing. Analysts including Iain Reid of Macquarie Securities Group and Brendan Warn of Bank of Montreal still expect the deal to go through.
"It's a tough market for all energy companies right now, but Shell is very likely to proceed with the deal because they believe in higher long-term oil prices," Reid said by phone from London. "'The deal makes sense for Shell and is seen as a good thing."
Share Slump
The share and cash acquisition will make Shell the world's biggest liquefied natural gas company and give it access to oil and gas fields from Brazil to Kazakhstan. The outlook for the acquisition got a boost in October after BG raised its oil and gas production forecast for this year at a time when Shell's output has been stagnating.
Oil has dropped to the lowest in almost seven years as the Organization of Petroleum Exporting Countries refuses to curb output to tackle a supply glut. The slump has driven down shares of oil companies around the world, including Shell, which has lost 34 percent this year. The downturn has forced some to question if Shell is paying too much.
The company has justified the deal by showcasing the stock component of the transaction. As Shell's shares dropped with the oil price, the value of the deal has shrunk to about $53 billion, according to data compiled by Bloomberg.
Sound Deal
"While Shell may have paid a early high price for BG, the logic behind the deal is sound," Bank of Montreal's Warn said by phone from London. "It's difficult to see shareholders derailing it."
Shell offered to pay 0.4454 of its B shares and 383 pence in cash for each BG share. The discount of BG's shares to Shell's implied offer price dropped to 9.1 percent on Monday compared with 10.4 percent on Friday. It narrowed to as little as 6.4 percent on Dec. 4, according to data compiled by Bloomberg.
If the transaction were to fail, Shell would pay BG a break fee of 750 million pounds ($1.1 billion), according to the deal's offer document.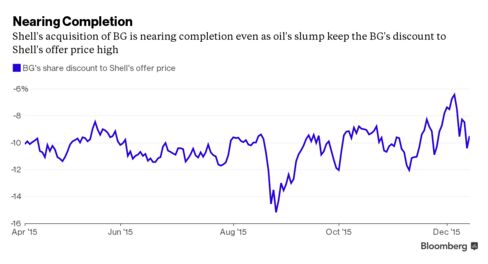 Shell's B shares dropped 1.1 percent in London trading . BG advanced as much as 3 percent and was 1.8 percent higher at 942.10 pence at 10:49 a.m. local time.
"This is a strategic deal that will make Shell a more profitable and resilient company in a world where oil and gas prices could remain lower for some time," Shell Chief Executive Officer Ben van Beurden said in the statement. "I am delighted we now have all the pre-conditional approvals needed to move to the next important phase."
BG had 5,143 employees and Shell 94,000 at the end of 2014, according to data compiled by Bloomberg. Shell has already announced 7,500 cuts in employee and contractor jobs this year, the company said.
Before it's here, it's on the Bloomberg Terminal.
LEARN MORE