Out of Rand Crisis, Opportunity for World's Costliest Gold Mines
President's decision to fire minister brings unexpected gains

Rand's collapse to a record hands 15% boost to Harmony shares
South African President Jacob Zuma is causing turmoil in financial markets and accidentally throwing a lifeline to his country's struggling gold industry.
Zuma's decision to fire respected Finance Minister Nhlanhla Nene drove the rand to a record low, instantly reducing labor and other costs in the local currency for mining companies relative to the U.S. dollars they earn by selling gold.
Shares of Harmony Gold Mining Ltd., the highest-cost major miner of the metal, are up 15 percent since Zuma's decision Dec. 9. AngloGold Ashanti Ltd. gained 8.4 percent and Gold Fields Ltd. 11 percent. A weak rand offers relief to an industry plagued by labor unrest, aging mines and power shortages. Companies as recently as six months ago were saying they needed to cut costs to survive as they lost money on 35 percent of local production.
"Local mines have gone from being very troubled to highly cash-flow generative in many instances," said Andrew Lapping, deputy chief investment officer at Allan Gray Ltd., which oversees $28 billion of assets in Cape Town. "It certainly provides a temporary respite."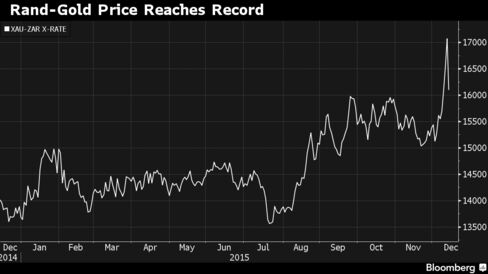 The gold price in dollars is down 10 percent this year but in rand is up 17 percent, and reached a record on Dec. 11 as the South African currency sank, helping local miners.
Harmony's all-in sustaining costs were $1,116.90 an ounce in the third quarter, highest of all major gold producers tracked by Bloomberg Intelligence, and Sibanye Gold Ltd.'s costs were $1,116. While gold was below those levels at $1,063 on Tuesday, the rand's 7.9 percent drop so far in the fourth quarter curbs output costs in South Africa.
Hostage to Currency
South African producers are "strongly levered" to the currency and "well positioned to deliver material positive free cash flows in 2016," Andrew Byrne, an analyst at Barclays Plc in London, said in a Dec. 10 note. Byrne has buy ratings on AngloGold and Gold Fields.
Still, that leaves the industry hostage to volatility in foreign-exchange markets.
The rand rose 5.2 percent on Monday after Zuma, who set markets reeling last week by appointing little-known lawmaker David van Rooyen as the new finance minister, made amends by handing the role to a more experienced candidate. It was up 0.5 percent at 15.03 rand against the dollar by 11:07 a.m. in Johannesburg on Tuesday.
A weaker currency can't solve longer-term problems. After almost 130 years of digging, South African gold mines, already the world's deepest, have to go further and at greater cost to access depleting ore. The country is now the world's sixth-largest producer after being the biggest for a century until 2007. Production of gold is declining every year.
Drills and Dynamite
Workers still mostly use hand drills and dynamite, and crawl through narrow tunnels to reach the rock face. In October, they won a pay increase of as much as 12 percent for entry-level employees. The Association of Mineworkers and Construction Union, which went on strike for five months in platinum mines last year, has yet to sign the deal.
Even after the recent bounce, Harmony is down 41 percent this year, the second-worst performer of the 14 major gold miners tracked by Bloomberg Intelligence. Gold Fields has sunk 20 percent. AngloGold is little changed, while Sibanye is 2.4 percent lower.
"The levels these companies are trading at are extremely low," said Gavin Wood, who helps manage about $4 billion as chief investment officer at Kagiso Asset Management in Cape Town. The currency lift "is helping these assets limp along to fight another day."
Before it's here, it's on the Bloomberg Terminal.
LEARN MORE