Old Hand Gordhan Has Problem He Can't Fix: Zuma's Reputation
Rand, bonds rally as former finance minister re-appointed

Move won't dispel doubts over Zuma's competence, NKC Says
In naming his second finance minister in the space of a week, President Jacob Zuma has chosen an experienced hand well-known to foreign investors.
Pravin Gordhan, 66, will retake the role he held between 2009 and 2014, replacing obscure lawmaker David van Rooyen, whose appointment on Dec. 9 sent the rand to a record low against the dollar.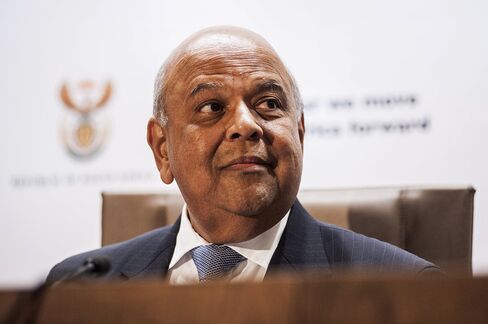 Zuma's change of heart sees the return of a finance minister who in 2009 steered the economy through the first recession in 17 years, while fending off pressure from labor unions to increase spending in the face of a widening budget deficit. While his reputation for fiscal prudence may stabilize markets in the short term, his real challenge is one he can't fix: his boss's growing reputation for incompetence, said Gary van Staden, an analyst at Paarl, South Africa-based NKC African Economics.
Gordhan "will likely achieve some success in calming the collective nerve, but the longer-term consequences of presidential blundering and Mr Zuma's thoughtlessness and knee-jerk decision-making will leave its own negative legacy," Van Staden said in a note. "The return of Mr Gordhan is likely to have some short-term benefit only in regard to local assets: stocks, bonds and the currency. However, the switcheroo will do nothing to reassure investors and business of the long-term viability of South Africa under the current administration."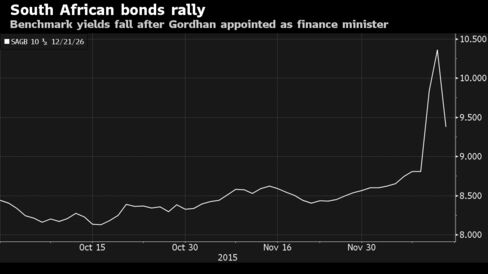 Gordhan resumes the role at a time when output is expected to grow just 1.4 percent this year, with the economy having narrowly avoided recession in the third quarter the nation on the verge of being downgraded to junk status by rating companies. The rand tumbled to a record 16.05 against the dollar on Dec. 11 after Zuma fired Nhlanhla Nene, who had served 19 months as finance minister, without giving reasons. The currency rallied on Monday as much as 6 percent, the most since 2008, while yields on benchmark government bonds due Dec. 2026 plummeted 108 basis points from a seven-year high.
"The markets will welcome back Gordhan to National Treasury," John Cairns, a currency strategist at Johannesburg-based Rand Merchant Bank, wrote in a note Monday. "He is a known entity, is his own man and did well when in the post previously."
In his initial stint as finance minister Gordhan stressed the need to curb government spending, telling reporters in April 2014, shortly before he was was moved to the Co-operative Governance Ministry, where he oversaw local councils, that South Africa had to "start consolidating our fiscal position and reducing the amount we have to borrow." He repeated those sentiments on Monday.
Expenditure Ceiling
"We will stay the course of sound fiscal management," Gordhan told reporters in Pretoria in his first public statement since being re-appointed as finance minister. "Our expenditure ceiling is sacrosanct. We take account of the concerns of the rating agencies and investors and we shall endeavor to protect the investment grade rating of South Africa."
Gordhan graduated as a pharmacist from the University of Durban Westville in 1973 and became involved in politics as a student, helping organize opposition to all-white rule for the ANC and the South African Communist Party. He was detained several times by the police and tortured.
Gordhan played a key role in negotiations between the African National Congress and the National Party government leading to South Africa's first all-race elections in 1994. After the ANC took power under Nelson Mandela he was appointed a lawmaker and chairman of a committee overseeing the implementation of a new constitution.
National Budget
He joined the South African Revenue Services in 1998 and was tasked with overhauling its customs and revenue administration. The following year he was named head of the agency and served for a decade before heading the National Treasury as finance minister. He will present the national budget to lawmakers in February.
Markets will want to know his views on South African Airways and spending on nuclear energy, said Peter Attard Montalto, an emerging-markets economist at Nomura International Plc in London. Nene was fired shortly after he clashed with chairwoman of SAA, Dudu Myeni, who also heads Zuma's charitable foundation, when he refused the loss-making national carrier permission to restructure a plane-leasing deal. He also urged caution in proceeding with Zuma's plan to build nuclear power stations.
Gordhan said any support for state-owned companies, including SAA, would have to be fiscally sustainable and any new spending plans, whether on nuclear energy or a national health service, would have to be backed up by new revenue without damaging economic growth.
"It's time that individuals stop playing with government components as if it's their personal toy and extract money when they feel like it," Gordhan said. "It is our duty to continuously earn the trust and confidence of the South African public."
Before it's here, it's on the Bloomberg Terminal.
LEARN MORE