A basket of non-investment grade shares down by half in 2015

Energy, small-caps taking toll while tech giants buoy S&P 500
Think equity investors have been blind to warning signs coming from junk bonds? Not quite.
For most of the year pessimists have warned that equity markets were missing signals in high-yield credit, where losses snowballed even as gauges like the Standard & Poor's 500 Index remained relatively stable. While true, most of that is an illusion of index composition -- not evidence of complacency.
As one of the broadest share gauges, the S&P 500 has companies that span the credit spectrum from junk to investment grade -- or have no debt at all. From that perspective, it's less surprising that the full index wouldn't mimic the plunge in junk bonds themselves, where annual losses for related exchange-traded funds exceed 10 percent. And that's what happened: until Friday, the equity gauge was virtually flat for the year.
What if you look at stocks that are representative of the high-yield universe? A basket compiled by Bloomberg of below investment-grade companies, including Chesapeake Energy Corp. and Cliffs Natural Resources Inc., has dropped a lot more -- 51 percent in 2015.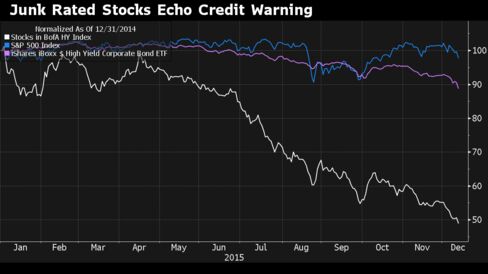 The slump in stocks with the lowest credit quality reflects the same concern gripping the debt market, that the commodity selloff and the Federal Reserve's plan to start raising interest rates will jeopardize solvency. While near record cash and the resilience in large technology firms have sheltered the S&P 500 from deeper losses, junk-rated stocks are vulnerable to a credit contagion with a smaller size and a tilt toward commodities.
Quality Matters
"It's really the same kind of signal," Curtis Holden, a senior investment officer in Houston at Tanglewood Wealth Management, which oversees about $840 million, said by phone. "The market is saying through how well the S&P 500 is holding up on a relative basis, 'Look for quality. Don't look for junk companies."'
Investors fled the riskiest part of the credit market on Friday after Third Avenue Management LLC took the rare step of freezing withdrawals from a $788 million credit mutual fund. The risk premium on the Markit CDX North American High Yield Index, a credit-default swaps benchmark tied to the debt of 100 speculative-grade companies, rose to a three-year high. In the equity market, the S&P 500 fell 1.9 percent, while the Chicago Board Options Exchange Volatility Index surged 26 percent to the highest since September.
Tech Boost
Even with that spasm, the S&P 500 is little changed this year, including reinvested dividends, as tech giants such as Facebook Inc. and Google's parent Alphabet Inc. surged more than 30 percent, countering declines from energy stocks.
U.S. junk debt has slipped 4.7 percent, heading for the first annual loss since 2008, according to Bank of America Merrill Lynch Indexes. Losses are more pronounced in exchange-traded funds, where investors can buy and sell a basket of debt securities like stocks. The iShares iBoxx $ High Yield Corporate Bond ETF has dropped 11 percent and the SPDR Barclays High Yield Bond ETF is down 13 percent.
Unlike the S&P 500, where technology represents a fifth of the index, the junk bond market is made up of smaller firms, with commodity taking up the biggest share. More than 500 debt issuers in the Bank of America measure are also publicly traded in the stock market. On average, their market capitalization is $5 billion, compared with $39 billion in the S&P 500, data compiled by Bloomberg show. The junk-rated stocks slumped 3.3 percent on Friday, poised for their sixth straight quarterly declines.
"Even if the overall equity market can hold its range, it seems likely that credit sensitive equities will continue to lag absent a significant improvement in the tone of credit markets," Michael Shaoul, chief executive officer of Marketfield Asset Management LLC in New York, wrote in a note to clients on Thursday. "The most vulnerable portions of the equity market are therefore those most involved in credit issuance."
Before it's here, it's on the Bloomberg Terminal.
LEARN MORE