Volume of iron ore exports in 2016 almost double 2011 level

Gina Rinehart's Roy Hill mine latest to join export surge
The price of Australia's top export has been almost slashed in half this year. That makes it all the more surprising economists increasingly see iron ore propping up growth as they assemble their 2016 forecasts.
The reason: Australian producers are making up for the price destruction by doubling down on volume, in the process worsening a global supply glut. There's even a new entrant to the market -- Gina Rinehart, Australia's richest person, last week oversaw her company's first shipment of iron ore to South Korea.
The surging exports are also papering over a massive drag on the economy from collapsing mining investment and could account for most of next year's growth, according to Citigroup Inc. and Goldman Sachs Group Inc. Still, the fall in commodity prices will hurt fiscal revenue, making it more difficult for the government to pare back a deficit and reach its goal for a surplus by the end of the decade.
"We're running faster to stand still when it comes to national income," said James McIntyre, head of economic research at Macquarie Group Ltd. in Sydney.
Australia is forecasting an 8 percent rise in the volume of iron ore exports next year to 824 million metric tons, which would be almost double the amount the country shipped five years earlier. Goldman Sachs estimates that the country's net exports will contribute 2 percentage points to growth next year without which the economy would stall.
Soft Underbelly
"Exports, mostly mining related, are expected to underpin economic growth in 2016, leaving a soft underbelly of subdued domestic demand," said Tim Toohey, chief economist at Goldman Sachs in Australia.
The anticipated growth in exports dovetails with an unexpected upswing in the labor market that is encouraging traders to pare bets on further interest-rate cuts from the already record-low 2 percent. The economy recorded its biggest back-to-back monthly jobs gain since 1988 in the October-November period and unemployment fell to 5.8 percent, the lowest since April 2014.
Traders were pricing in a 42 percent chance Monday of a rate cut by June, down from more than 50 percent at the start of the month.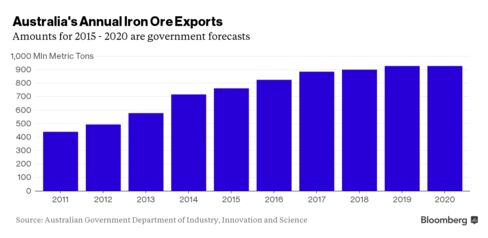 The latest addition to iron ore exports was the first shipment from Rinehart's $10 billion iron ore mine on Dec. 10, which fulfilled her two-decade dream. The Roy Hill project -- set to be Australia's largest-single iron ore mine with annual production of 55 million --will contribute to declining prices, according to Citigroup, which described it in September as "an impending whale." The producer insists its impact is overstated, noting only about 10 percent of output will enter spot markets.
Price Collapse
BHP Billiton Ltd. to Rio Tinto Group to Brazil's Vale SA are also boosting output to protect market share. The price of iron ore fell below $40 a metric ton last week and Axiom Capital Management Inc. reckons the price collapse will extend into the $20 range by 2017, or even sooner, as the export surplus continues to grow.
"None of us are thrilled with the ore price," Rinehart said earlier this month in a speech in Sydney, insisting that Roy Hill's production costs mean it's better positioned than most competitors. "Australia needs to understand that there is nothing we can do about international prices and if we don't keep our costs down and export competitively, other nations will."
For the government, falling prices hurt revenue. In its annual budget in May, it assumed an iron ore price of $48 a ton and an exchange rate of 77 U.S. cents. But at the current ore price, the exchange rate would need to drop by about 10 cents from its current 72 cent-level to generate the same revenue, according to McIntyre, a former Treasury official.
Budget Deterioration

As a result, Treasurer Scott Morrison is likely tomorrow to unveil a deterioration in the budget deficit to A$38 billion for the 12 months through June, from the government's May forecast of A$35 billion, a Bloomberg survey of economists showed Friday.
"If 2015 was a challenging year for balancing the transition of economic growth from the non-mining sector then 2016 will likely be worse," said Toohey, who predicts below-consensus growth of 2 percent next year. "The risk to the view is that anemic domestic demand growth is sufficient to see inflation undershoot expectations and the unemployment rate to reverse recent gains."
Still, there are bright spots. Tourism and education have benefited from the weaker currency and have also helped bring down unemployment as they are both labor-intensive industries.
Citigroup economist Josh Williamson notes that the other silver lining from the winding down of Australia's resource investment boom is that there are fewer imports of machinery to build mines, further boosting the contribution of net exports.
"The Australian dollar will need to fall further to cushion the loss of income if the terms of trade continue to decline," Williamson said. "A period below fair value could help supercharge sectors like manufacturing."
Watch Next: Iron Ore Sinks in a Sea of Oversupply
Before it's here, it's on the Bloomberg Terminal.
LEARN MORE