Traders Are Suddenly Getting Anxious About the Loonie's Plunge
Implied price swings top historical measure by most in G-10

Pressure grows on central bank to act to spur economic growth
Canada's government bonds boast the world's highest debt rating. The nation's dollar is trading like it's an emerging-market currency.
A measure of short-term implied volatility exceeds historical swings for the currency by the most among Group of 10 nations, according to data compiled by Bloomberg. The leading culprit is crude oil, Canada's largest export until this year, which has plunged to a six-year low after the Organization of Petroleum Exporting Countries failed to rein in production.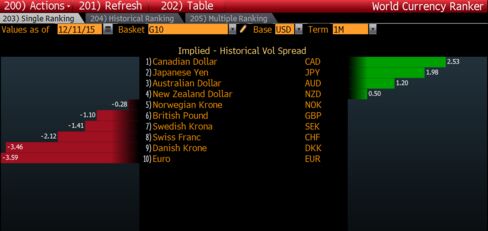 Canada's well-regarded financial institutions and predictable central bank have historically been an anchor for the nation's dollar, making it one of the most stable major currencies. Yet a rout in raw materials that has quashed the nation's resource boom has cast doubt on the Bank of Canada's optimism that the nation won't need another rate cut soon and extended the currency's 28 percent, three-year slide.
"A sustained period of domestic data weakness could see markets pricing in additional risks of the Bank of Canada easing over the coming year," Bipan Rai, director of foreign exchange and macro strategy at Canadian Imperial Bank of Commerce, said by phone from Toronto. "We don't see the Bank of Canada easing, but it doesn't mean the market won't price it in. That's going to take the loonie along for a ride."
The currency, nicknamed for the aquatic bird on the C$1 coin, tumbled to an 11-year low of C$1.3680 per U.S. dollar in Toronto. It has lost 2.1 percent against the greenback this month, the worst among the G-10 currencies.
One-month-implied volatility exceeded historical volatility by 2.57 percentage points. The measure compares with 2.90 percentage points for the Chilean peso and 2.47 percentage points for the Mexican peso. The yen, at 2.24 percentage points, is the second highest among G-10 currencies.
The central bank has said that growing non-commodity exports and strength in the global economy will revive Canada's economic growth. Exports make up about one-third of Canada's economy, according to the World Bank. China, Canada's second-biggest trading partner and world's biggest energy consumer, is growing at the slowest pace in 25 years.
Canada's ranked AAA and Aaa, the highest possible ratings, by Standard & Poor's and Moody's Investors Service.
Growth Story
"Canada is a growth story in the sense that it is a growth currency -- it needs geopolitical stability, it needs China to be doing well, it needs the U.S. to be doing well," said Firas Askari, head of currency trading at Bank of Montreal. "Given that the Fed meeting is so close to Christmas and given the general geopolitical environment, people are skittish."
Crude prices remaining below $40 a barrel and weak economic data may add to the case for another interest-rate cut, CIBC's Rai said. The central bank reduced its benchmark twice this year, reaching 0.5 percent in July. Meanwhile, the U.S., Canada's largest trading partner, is projected to raise interest rates at a meeting next week for the first time since 2006.
Forecasters see the Canadian dollar trading at C$1.35 per U.S. dollar at the end of the first quarter next year, and then strengthening to C$1.34 by year end, according to the median estimate in a Bloomberg survey.
"The rate of descent might be slowed down because we've come a fair distance relatively quickly," Askari said . "Having said that, if crude breaks through $35, you know you could see $1.3750-$1.3825 pretty quickly."
Before it's here, it's on the Bloomberg Terminal.
LEARN MORE