Economic Takeaways of U.S. Retail Sales, Consumer Sentiment
Gains in sales, confidence keep Fed rate increase on track

Eight of 13 retail categories showed stronger sales last month
What you need to know about Friday's U.S. economic data:
RETAIL SALES (NOVEMBER)
Rose 0.2 percent after 0.1 percent October gain
Sales figure used in GDP calculation climbed 0.6 percent, most since May
Demand improved at restaurants, Internet retailers, apparel stores and sporting goods merchants
The Takeaway: Consumers began to stir during the month that kicks off the start of the holiday-shopping season. The gain in the headline retail sales figure was the strongest in four months, reflecting increased spending on nondurable items such as food, sporting goods and apparel. The government's figures aren't adjusted for changes in prices, and the cost of gasoline weighed on sales. More importantly, the retail figures used to calculate gross domestic product -- which exclude categories such as food services, auto dealers, home-improvement and service stations -- climbed by the most since May. The report indicates real consumption will rise at a 2.5 percent annualized rate in the fourth quarter, Steve Murphy, a U.S. economist at Capital Economics, wrote in a note to clients. "Not that there is much doubt any more, but this supports the case for a rate hike by the Fed next week," he said.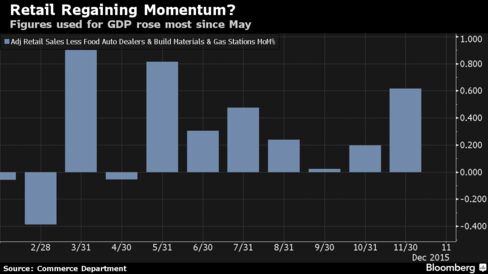 MICHIGAN CONSUMER SENTIMENT SURVEY (DECEMBER)
Preliminary index rose to a four-month high of 91.8 from 91.3
Gauge of current conditions was strongest in five months, while expectations eased
All of the increase due to more optimism among households in bottom two-thirds of the income scale
The Takeaway: Favorable perceptions about household finances and buying conditions are propping up sentiment, which indicates a "fairly good Christmas season," Richard Curtin, director of the survey, said on a Bloomberg conference call. Shoppers expect retailers to keep discounting merchandise. A measure of whether its a good time to buy big-ticket items climbed to the highest level since 2006. Long-term inflation expectations held at a record low. While the majority of consumers in the Michigan survey expected higher borrowing costs in 2016, the Federal Reserve's projected move to raise rates next week for the first time in almost a decade probably won't hurt consumer spending, nor is it likely to prompt much borrowing-in-advance behavior, Curtin said.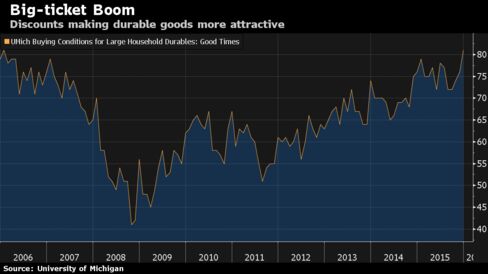 PRODUCER PRICES (NOVEMBER)
Rose 0.3 percent, compared with forecast for no change, after a 0.4 percent drop
Prices excluding food, fuel and trade services rose 0.1 percent after 0.1 percent decrease
Producer prices fell 1.1 percent in year to November after a 1.6 percent decrease in the 12 months ended in October
The Takeaway: The jump was due to the cost of services, which increased 0.5 percent, the most in more than a year. Many economists prefer the gauge that strips out food, energy and trade services because it removes the overall index's more volatile components. By that measure, inflation was a no-show. Prices of goods at the wholesale level dropped 0.1 percent, marking the fifth straight monthly decline. Almost 80 percent of the rise in services pricing reflected higher margins received by retailers and wholesalers.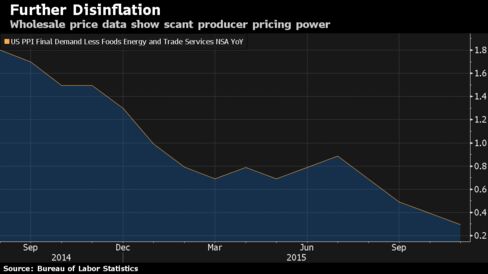 Before it's here, it's on the Bloomberg Terminal.
LEARN MORE