Yahoo! Inc. is planning to carve out its main Web business into a standalone company, part of a tax-saving "complex transaction" to separate its $31 billion stake in Alibaba Holding Group Ltd.
Yahoo Chief Executive Officer Marissa Mayer has spent the past three years seeking to turn around Yahoo's Web operations, but shareholders are valuing core Yahoo at less than zero; Yahoo's market value of $32.7 billion is less than the sum of its Alibaba stake, $8.7 billion in Yahoo Japan and cash of $6.8 billion.
While analysts estimate that the Web operations could fetch $3 billion to $3.5 billion in an acquisition, Mayer's goal has been to make it an even more attractive destination for users and advertisers. Yahoo counts more than 1 billion users worldwide. She points to mobile, video, and social products as bright spots, but the bulk of Yahoo's revenue still comes from display advertising, which has been declining. Here are four charts that illustrate Yahoo's challenges as it competes with Google Inc., Facebook Inc., Twitter Inc. and other popular Web properties: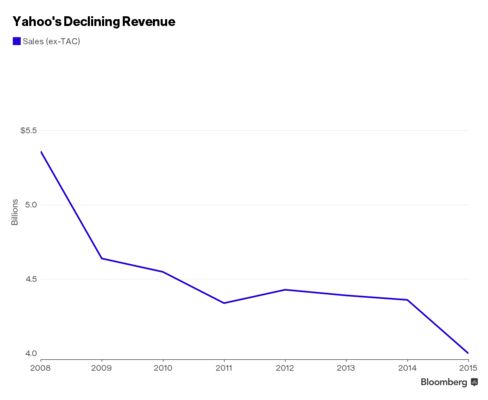 Yahoo still depends on advertisers, who have been putting more of their marketing budgets elsewhere. Yahoo's revenue, which has declined for five straight years, is projected to shrink 8 percent in 2015 to $4.04 billion, according to data compiled by Bloomberg.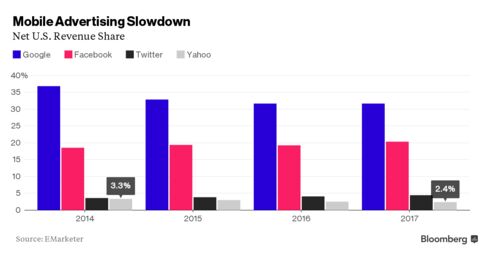 Even though mobile advertising is driving much of the growth at Google, Facebook and Twitter, Yahoo's share of the segment is shrinking, and projected to slide further in 2017, researcher EMarketer predicts.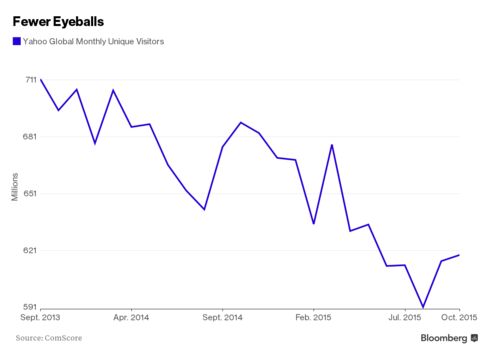 One of Yahoo's prized possessions is its Web traffic, but the number of global visitors to its sites has been steadily declining.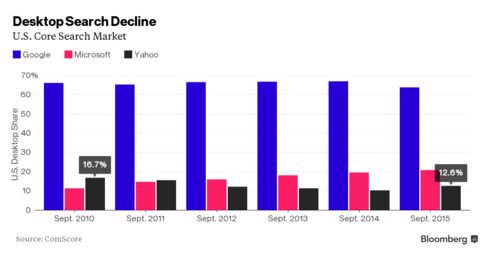 Even in desktop search, where Google dominates, Yahoo has been losing share.
Before it's here, it's on the Bloomberg Terminal.
LEARN MORE