Oil Slump Now Biggest Risk for Malaysia Debt as 1MDB Mess Fixed
Fitch warns 2016 deficit may exceed prime minister's target

Default risk heads for biggest quarterly drop in four years
As Malaysia's debt-ridden state investment company finds buyers for its assets, investors say slumping oil is the biggest threat still hanging over the nation's finances.
Sovereign default risk is headed for the biggest quarterly drop in four years as 1Malaysia Development Bhd. announced $2.3 billion of asset sales. Yet there are signs of caution among investors with 10-year government bond yields at a three-month high relative to three-year notes and the ringgit remaining Asia's worst performer in 2015.
"Malaysia is hardly out of the woods," Nicholas Spiro, a London-based managing director at Spiro Sovereign Strategy, said in a Dec. 9 e-mail interview. "The 1MDB asset sales will do little to help bolster growth given the bleak external backdrop of a rapidly slowing Chinese economy and the persistent weakness in commodity markets."
Prime Minister Najib Razak sought to rally his party amid controversy over political donations with a speech to the United Malays National Organisation that ended with "no surrender," and said the 30 billion ringgit ($7 billion) hit from oil's decline next year will be compensated for with higher taxes. Andrew Colquhoun, Fitch Ratings head of Asia Pacific sovereigns, said the risk was that the government would adopt populist policies and relax its fiscal discipline.
The prime minister warned ruling party members at an annual congress on Thursday to show loyalty to their leader. "I have said that amid mounting challenges and whatever tests may come, I must never give up and will stand up to problems and continue to lead UMNO to victory."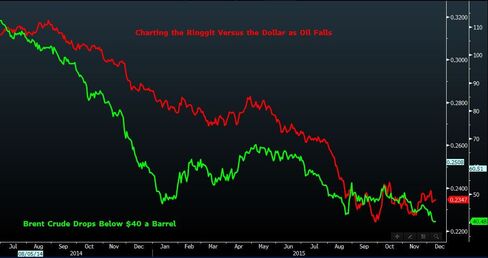 Najib, who chairs 1MDB's advisory board, aims to cut the budget shortfall to 3.2 of gross domestic product this year and 3.1 percent in 2016 as he seeks to eliminate a deficit that's plagued the country since 1998. He implemented a 6 percent goods and services tax in April to boost finances, while increasing cash handouts to the poor.
The 31 percent slide in Brent crude prices this year is hurting Asia's only major net exporter of the commodity as Malaysia derives about 22 percent of government revenue from oil-related sources.
1MDB, which drew criticism from lawmakers for accumulating 42 billion ringgit of debt in less than five years, has short listed bidders for its Bandar Malaysia project in Kuala Lumpur valued at 11 billion ringgit. That follows an agreement last month with China General Nuclear Power Corp. to offload its power assets for 9.83 billion ringgit.
"While the sale of assets by 1MDB should be viewed as a positive development, there remains uncertainty on the resolution of the 1MDB issue and political pressures for a leadership change," said Ng Kheng Siang, head of Asia Pacific fixed income at State Street Global Advisors, the asset-management business of State Street Corp. overseeing $2.2 trillion.
Five-year credit-default swaps on Malaysian government bonds have dropped 42 basis points since Sept. 30 to 190, down from a six-year high of 247 in September, CMA prices show. 1MDB's progress may help improve sentiment in the debt-insurance market but the key driver still remains risk aversion, especially for commodity exporters like Malaysia, according to AllianceBernstein LP.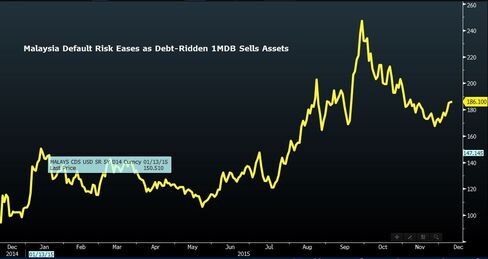 "By showing the market that they are able to liquidate assets, they eventually open the window to resolve the 1MDB issue," said Vincent Tsui, a Hong Kong-based economist at global asset-management firm AllianceBernstein, which oversees $478 billion. "Malaysia is still more externally driven by emerging-market sentiment rather than the domestic factors per se."
The key for Malaysia's credit profile is the pressure on its external finances in the "context of volatile investor risk appetite," said Fitch's Colquhoun, adding that the government's fiscal-deficit target may come in "a bit higher" than 3.1 percent. The ratings company kept its assessment at A- in June, the fourth-lowest investment grade, after warning of a possible downgrade in March because of the worsening trade balance and concern about 1MDB's ability to meet debt obligations. It has a stable outlook.
1MDB Sideshow
Najib is facing higher borrowing costs to fund his $444 billion development plan. The difference in yield between the nation's three- and 10-year sovereign bonds widened 35 basis points this quarter to 80 and reached 81 reached on Dec. 4, a level last seen in September, data compiled by Bloomberg show. While the ringgit has weakened 18 percent this year, top forecasters Macquarie Bank Ltd. and Commerzbank AG see declines slowing in 2016 as commodities stabilize.
That optimism was reflected by global funds increasing Malaysian debt holdings in November by 1.9 percent from a month earlier to almost 214 billion ringgit, the highest since April. 1MDB's U.S. currency bonds due in 2023 have climbed to 87.48 on the dollar from a record low of 72.20 in October. The notes yield 6.6 percent, down from an unprecedented 9.75 percent, according to data compiled by Bloomberg.
"We have always viewed 1MDB as a bit of a sideshow," Colquhoun said via e-mail on Dec. 9. "The amount of debt, while significant at about 4 percent of GDP before the asset sales, isn't big enough to move the needle on Malaysia's rating."
Before it's here, it's on the Bloomberg Terminal.
LEARN MORE