Obamacare Sign-Ups Reach 2.84 Million as Deadline Nears
Ten days before the deadline to get health insurance through Obamacare, 2.84 million people have signed up through U.S.-run marketplaces, the government said Wednesday.
For the week that ended Dec. 5, the U.S. said that 804,338 people chose plans -- the biggest week of sign-ups since the markets opened on Nov. 1. The U.S. Department of Health and Human Services expects that millions more will be enrolled when people who had coverage for 2015 are automatically renewed this month, and when state-run markets, including California and New York, report their totals.
"We are now seeing a surge of interest as we get closer to the deadline," Andy Slavitt, acting administrator of the Centers for Medicare and Medicaid Services, said on a conference call with reporters Wednesday. The deadline to sign up for coverage starting on Jan. 1 is Dec. 15 and the final date most people can sign up for 2016 policies is Jan. 31.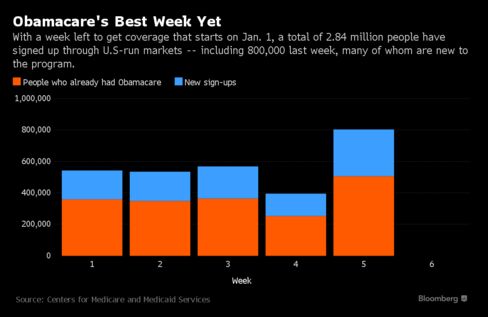 The U.S. has said it hopes to have about 10 million people enrolled in individual marketplace plans by the end of next year, up from a 2015 year-end projection of 9.1 million. Obamacare set up marketplaces to buy coverage and offers some people subsidies to help them afford it.
The government has introduced new tools to help individuals pick coverage, such as one that estimates the total cost of health care, not just what people will pay in premiums. Slavitt said the government has seen some signs that individuals are picking policies based on how well the coverage will meet their needs, such as increased enrollment in mid-level, "silver" plans that offer more comprehensive benefits than lower-level plans.
Before it's here, it's on the Bloomberg Terminal.
LEARN MORE