Falling price of oil is government's biggest problem

Brent crude sank below $40 Tuesday for first time in 7 years
Just when it looked like change was coming to Venezuela, along came OPEC to spoil the party.
Celebrations were still taking place in Caracas in the aftermath of elections Sunday that saw opposition lawmakers win a majority in congress for the first time in 16 years, but optimism over the prospect of a challenge to President Nicolas Maduro's government has started to fizzle out as Brent crude fell below $40 a barrel for the first time since 2009.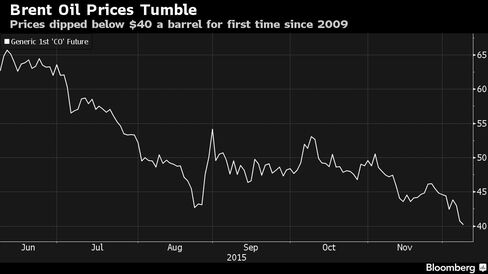 With oil accounting for 95 percent of Venezuela's foreign-currency earnings, the drop in crude prices is threatening to push the country's fragile economy deeper into recession.
Venezuela's economy is expected to contract 10 percent this year by the International Monetary Fund, while economists polled by Bloomberg see consumer prices rising about 124 percent. While the result of Sunday's National Assembly election is the "best possible outcome," optimism is fading as low oil prices start to stress the country's near-term cashflow, Siobhan Morden, the head of Latin America fixed-income strategy at Nomura Holdings Inc., said Tuesday in a note.
"Fiscal accounts are completely dependent on oil," said Francisco Monaldi, a fellow in Latin American energy policy at the Baker Institute at Rice University in Houston, adding that the break-even point for many new oil-related investments is about $30 a barrel.
Any further drop in oil could further strain the country's largest company, Petroleos de Venezuela SA, as it seeks to boost revenue by developing the Orinoco heavy crude belt, he said. "It makes it very hard for PDVSA to invest if the cash flow is so low, so it's really an emergency situation."
Each $1 drop in oil prices results in $686 million in lost yearly oil income for PDVSA, Carlos Rossi, president of Caracas-based consulting firm EnergyNomics, said in a phone interview.
Supermajority Claimed
Maduro has traveled the world this year advocating for higher oil prices and output cuts. Still, his words have mostly fallen on deaf ears, and the Organization of Petroleum Exporting Countries decided last week to keep pumping about 31.5 million barrels a day.
Failure to reduce output could push oil prices $20 lower next year, Venezuelan Oil Minister Eulogio Del Pino warned before the OPEC meeting last week.
The National Electoral Council on Tuesday published final results showing the opposition alliance had 109 seats compared with 55 for the ruling socialist party. Another three seats reserved for members of indigenous communities will vote with the opposition, alliance secretary Jesus "Chuo" Torrealba said today at a press conference in Caracas. The so-called supermajority allows for widespread powers to oppose Maduro's government.
Venezuela's benchmark dollar bonds due in 2027 rallied Monday after preliminary election results were released, with yields falling 1.25 percentage point. Yields fell 0.22 percentage point Tuesday to 22.8 percent as of 4:09 p.m. in New York.
"The reason why the bonds rallied yesterday was really very much this prospect for political change, but it doesn't mean this changes the problems the country is facing," said Michael Ganske, who oversees $4.5 billion of debt and currencies as head of emerging markets at Rogge Global in London.
Ganske said the country would only survive oil prices near current levels if there is a change in government to one that could run the economy better. "It's not a poor country, it's a rich country. It's just very badly run by a crazy person."
With a 112-seat super-majority in congress, opposition lawmakers would get substantial powers to try to reverse some of Maduro's populist measures, which contributed to a collapse in the local currency and widespread shortages of goods.
Bank of America economist Francisco Rodriguez said Tuesday that major economic adjustments and a transition to more market-friendly policies, including a possible change in government, are likely next year.
"It looks like Venezuela is going to enter into a political quagmire," said Ray Zucaro, the chief investment officer at RVX Asset Management, a Miami-based investment firm. "They are already starting to bicker about elections when oil is getting crushed. How are they going to be able to implement the economic changes that are absolutely necessary?"
Maduro, meanwhile, remained defiant in a speech late Monday night.
"We're going to defend the people," Maduro said, adding that he would resist any attempt to change strict price regulations and labor laws that critics say stifle the economy. "A fight is coming, a good fight that we're sure will result in new victories for the revolution."
Before it's here, it's on the Bloomberg Terminal.
LEARN MORE