Brazil's Unprecedented Torrent of Downgrades Is Set to Get Worse
Fitch says downgrades may outpace upgrades by 10-to-1

More than half of companies have negative outlooks, Fitch said
Amid Brazil's economic and political tumult, the nation's businesses have seen a record number of downgrades this year -- and the total is about to get worse.
Fitch Ratings estimates it may slash the ratings of as many as 10 companies for every one it upgrades in 2016. Fitch said that grim scenario is most likely if it chops Brazil's grade, an ever-growing possibility as the country's woes deepen.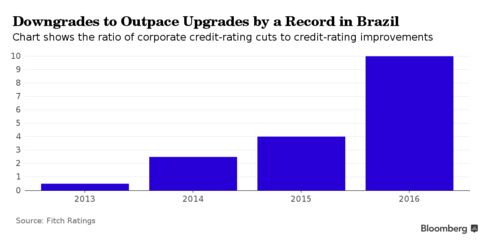 A top lawmaker initiated impeachment proceedings against President Dilma Rousseff last week, a move that may further undermine the nation's finances and exacerbate the worst recession in a quarter century. That spells trouble for companies already finding it hard to obtain financing in the wake of an unprecedented corruption scandal at Brazil's state oil company.
"That's a perfect storm," said Ricardo Carvalho, Fitch's head of corporate ratings in Brazil.
Fitch has a negative outlook on Brazil and on the grades of more than half of the Brazilian companies it rates. Its BBB- ranking for sovereign bonds is the lowest possible investment grade. Standard & Poor's cut the country to junk in September.
Brazilian companies have accounted for 11 of 15 bond defaults in Latin America this year as a widening bribery probe into Petroleo Brasileiro SA roils the nation's construction and banking industries. The other four were in Argentina and Mexico.
On Friday, Fitch downgraded investment bank Grupo BTG Pactual SA to junk from investment grade after its chief executive officer was arrested for allegedly obstructing the investigation into bribery Petrobras.
The graft scandal at Petrobras and its contractors has helped push average borrowing costs for Brazilian companies in dollars up 3.16 percentage points this year to 9.54 percent, according to Bloomberg's USD Emerging Market Corporate Index. The real rose 0.2 percent to 3.7453 per dollar at 8:08 a.m. in New York on Monday, trimming this year's loss to 29 percent.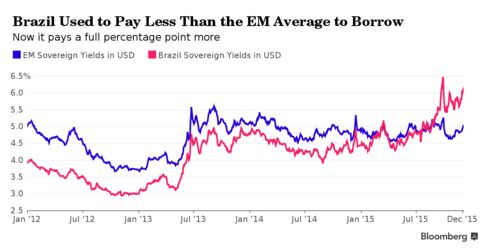 Rising yields threaten to make it harder for Brazil's debt-laden businesses to refinance obligations as $30 billion of overseas bonds come due in the next two years.
"High leverage and falling growth produces negative cash flow, which results in downgrades," said Michael Roche, an emerging-market fixed-income strategist at Seaport Global Holdings LLC in New York.
Soaring interest rates in Brazil also will make it more expensive to seek funding locally. The central bank has boosted its key lending rate to an eight-year high of 14.25 percent to stem surging inflation in Latin America's second-biggest economy.
"You will see companies burning cash," Fitch's Carvalho said. "The cross-border market is closed for Brazilian companies, and the local market is selective."
Before it's here, it's on the Bloomberg Terminal.
LEARN MORE