Mideast Stocks Drop as OPEC Decision Signals No End to Oil Rout
Dubai's equity benchmark leads losses as oil glut continues

Output target cuts investor appeal of energy-exporting nations
Dubai stocks fell to a three-week low, leading declines in most Middle Eastern markets, after OPEC decided to forgo an output reduction that might have propped up oil prices and eased the pressure on the region's export revenues. Abu Dhabi equities dropped the most in a week.
Shares in the Middle East are catching up with Friday's losses across emerging markets after the Organization of Petroleum Exporting Countries kept production at about 31.5 million barrels a day, amid a glut in global oil supply.
"The market is going to continue to see some selling pressure this week" as OPEC's decision will continue to damp sentiment, said Saleem Khokhar, who manages about $2.5 billion as head of equities at the asset management group of National Bank of Abu Dhabi PJSC, the U.A.E.'s biggest bank. "The banking sector has been pretty aggressively sold, so we do see some real value there, although take on board it's going to be a soft economy next year."
The DFM General Index retreated 0.9 percent to 3,174.34, led by Dubai Islamic Bank, the second-largest weight on the gauge, which declined the most since August. The ADX General Index fell 0.9 percent. National Bank of Abu Dhabi has fallen 37 percent this year, more than five times the drop in Abu Dhabi's gauge.

Brent crude, a pricing benchmark for half the world's oil, dropped near a six-year low on Friday as the new output implied that the earliest OPEC can consider reducing production is June. The U.A.E., home to about 6 percent of the world's proven oil reserves, relies on income from crude to help fund government spending.
A Bloomberg gauge of 200 Gulf stocks has declined 11 percent this year as oil's slump continues and expectations of a Federal Reserve interest-rate increase next week spooks emerging markets.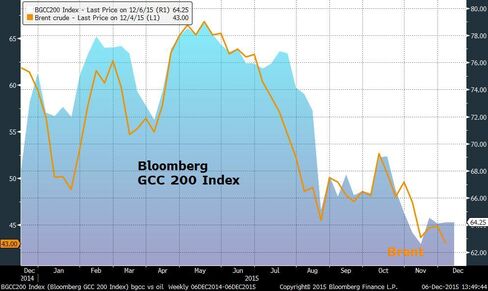 Saudi Arabia's Tadawul All Share Index slipped 0.1 percent, led by Jabal Omar Development Co., which builds accommodations for pilgrims to Mecca. Kingdom Holding Co., owned by billionaire Prince Alwaleed bin Talal Al Saud, rose to an August high after a French fund and several unnamed companies bought a $150 million stake.
Bahrain stocks were little changed. Fitch Ratings Inc. downgraded the outlook on the island country to negative, citing falling oil prices and insufficient policy measures to mitigate its impact.
Stocks in Egypt advanced 0.9 percent for a fourth day of gains, the gauge's longest rally since October. Kuwait equities rose 0.1 percent, while Qatar's QE Index added 0.2 percent. Oman's gauge fell 0.3 percent. Iranian stocks retreated 0.3 percent, according to data on the Tehran Stock Exchange website.
Trading Day Switch
Israel's TA-25 Index climbed 0.4 percent, led by Teva Pharmaceutical Industries Ltd., which tracked the gains on its American Depository Receipts. The gauge tracking the country's leading natural gas companies slumped to a two-week low after the Egyptian government ordered a freeze on talks to import fuel from Israel's largest offshore field.
Meanwhile, the Tel Aviv Stock Exchange is planning to change its Sunday-to-Thursday trading schedule to align with markets abroad in the first quarter of 2017, Chairman Amnon Neubach told Bloomberg last week. The move is a prerequisite for the bourse to be included in MSCI Inc.'s European gauge, a step the TASE hopes would attract more foreign investment.
Volumes have plunged about 30 percent since 2010, when MSCI upgraded Israel to developed-market status.
Before it's here, it's on the Bloomberg Terminal.
LEARN MORE