Volatile Week for U.S. Stocks Ends in Draw as Fed Meeting Looms
Most tumulutuous stretch since August with four 1% swings

S&P 500 flat after rallying most in three months on Friday
The most volatile week for U.S. stocks since the summer swoon ended right where it began -- with investors waiting for the Federal Reserve.
Equities shattered a month of calm as attention careened from central-bank stimulus to OPEC and jobs data. The steady flow of news that will likely set the tone for markets in 2016 whipsawed the Standard & Poor's 500 Index to four consecutive moves of 1 percent or more. In the end, the gauge ended the week little changed after a catch-up rally on the final day.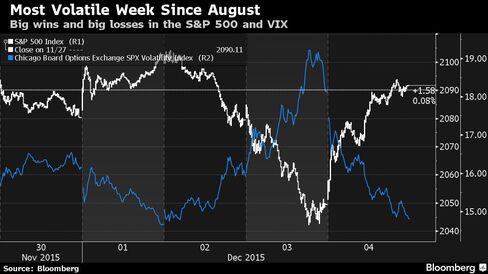 "We had a very calm period and now we're getting back to reality and reality is much more complicated," said Brad McMillan, chief investment officer of Commonwealth Financial Network in Waltham, Massachusetts, which oversees $97 billion. "The market's struggling to process a lot of different factors this week."
The future of monetary policy in Europe and the U.S. kept investors guessing two weeks before the Fed's final meeting of the year. Fresh signals that a rate hike is imminent came at the same time the European Central Bank disappointed with the scale of its expanded stimulus. A government jobs report Friday emboldened speculation that the economy is strong enough to withstand less support, while OPEC's decision to keep pumping more than its output target roiled energy markets.
The S&P 500 added 0.1 percent in the week to 2,091.69, kicking off what is normally the second-best month of the year with a four-day stretch of swings last seen in August. The index rallied 2.1 percent on Friday, the most in almost three months following a two-day rout of 2.5 percent.
A measure of stock swings followed a trajectory similar to equities in the week, as the Chicago Board Options Exchange Volatility Index had its smallest move since July despite huge daily swings.
The snap-back in stocks Friday put a bullish sheen on U.S equities after three days of economic developments that cemented a divergence in monetary policy among global central banks, with the Fed preparing to tighten as central banks in Europe and Asia have committed to expanding stimulus if necessary.
"This was a pretty big week in terms of central bank policy," Anna Rathbun, director of research for CBIZ Inc.'s retirement plan services unit in Cleveland, Ohio, said in a phone interview. The firm manages about $10 billion. "The jobs report points strongly to a Fed rate hike that would put our economy on a divergent pattern from the world and it'll be hard for the Fed to argue itself out of it. And on top of all that was the OPEC meeting."
The Organization of Petroleum Exporting Countries jolted energy markets Friday after setting a record oil-output ceiling that may add to a global supply glut that's sent crude oil tumbling more than 40 percent this year. West Texas Intermediate settled at $39.97 a barrel Friday in New York. It closed at $38.24 on Aug. 24, the lowest this year.
The OPEC decision sent energy shares in the S&P 500 lower by 4.5 percent in the period, the most among 10 main groups. Financial shares advanced 0.8 percent on prospects for higher interest rates, while technology shares rallied 1.6 percent to pace gains.
The S&P 500's Friday rally left the gauge 12 percent above its trough in August, when concern that a slowdown in China would spread roiled financial markets and contributed to the Fed's decision to stand pat on rates. Fed funds futures now indicate a 76 percent chance the central bank will tighten in two weeks, with the equities benchmark just 1.9 percent below its all-time high.
"I can't remember when the market last responded to a greater certainty of a Fed hike in a positive way," Paul Christopher, the head global market strategist for Wells Fargo Investment Institute, which oversees $1.7 trillion, said in an interview. "It helps allay some of the fears generated at mid-year. Those issues aren't gone though and if the Fed hikes and doesn't give us patient language, that could be negative."
Before it's here, it's on the Bloomberg Terminal.
LEARN MORE