Silicon Valley is starting to rewrite its own rules for success. Instead of emphasizing growth at all costs, technology investors are now telling startups to cut back on their spending, leading to hiring freezes, office closures, and job cuts.
Venture-backed tech companies that have reduced staff in the past few months include Evernote, Hootsuite, Jawbone, Snapchat, and Tango. Each has achieved a valuation of at least $1 billion from investors. A slew of cutbacks at such young, ascending companies is uncommon in the tech industry, where hiring is competitive and growth prospects are everything, with talent often gravitating toward hot, growing startups. The first sizable job cuts at Google didn't come until about a decade after it was founded.
Over the past several months, many venture capitalists have begun advising their startups to conserve cash and abandon their focus on hypergrowth, a common strategy in Silicon Valley that emphasizes huge increases in users or revenue at high costs. Fred Wilson, a managing partner at Union Square Ventures, penned a blog post on Nov. 30 advising entrepreneurs to rein in spending. He said some Union Square-backed startups had recently reviewed their expenses and "concluded that things got a bit out of control," though he didn't name the companies. "If you've seen a growth spurt for the past few years and have not taken the time to do some belt tightening, it might be a good time to do that," wrote Wilson, whose firm is an investor in Kickstarter, Foursquare, and Twilio.
The cost-cutting at startups is partly due to a sparser fundraising environment. While venture capitalists are putting more money into tech companies this year, they're doing fewer deals, according to research firm CB Insights. About 1,800 funding rounds closed in the third quarter, the lowest number in more than two years. Rather than spreading money around, investors are chasing megadeals so they can get a piece of the biggest winners, and that's leaving some younger companies cash starved. For example, Uber Technologies has scooped up more than $3 billion since December 2014, and the car-booking company is seeking to raise at least an additional $1 billion, people familiar with the matter have said.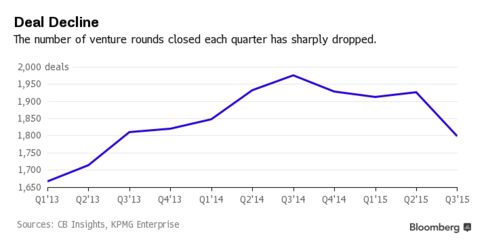 In a survey published on Dec. 2 by First Round Capital, 66 percent of tech entrepreneurs said they expect raising money to become more difficult in the next year. That's particularly true for new companies, said Sam Altman, president of Y Combinator. Startups fresh out of Altman's tech incubator often don't know how their products will make money. But investors have been spending more time evaluating a startup's financial potential anyway and proceeding more cautiously, he said. Backers of newer Y Combinator startups include Willett Advisors, the investment arm for the personal and philanthropic assets of Michael Bloomberg, the founder of Bloomberg LP.
Adding to the wariness, the market for initial public offerings of tech companies hasn't been particularly favorable. Meanwhile, closely held companies face more intense scrutiny: Fidelity Investments and BlackRock have written down the value of some of their private tech holdings this year. Philip Krim, chief executive officer of online mattress retailer Casper, said some of his peers who can afford to hold out are delaying plans to raise money. "Everyone has taken a bit of pause," he said.
A more frugal approach at tech companies isn't a sign of a bubble-bursting, said Randy Komisar, a general partner at Kleiner Perkins Caufield & Byers. "I see this as a typical market adjustment." The changes could actually create stronger companies. Whereas investors once favored startups that bring in customers at a loss to increase their revenue, many now want to see business models built around profit, said Charles Muldow, a general partner at Foundation Capital. He sometimes recommends cutting costs, such as extensive customer service operations, as a way to help get there.
Plenty are taking drastic steps to reduce spending. Productivity software maker Evernote said in September it would close three offices and cut 47 employees. Jawbone, which makes fitness gadgets and Bluetooth headsets, closed its New York office last month and cut 15 percent of its staff. Also last month, messaging-app developer Tango eliminated 9 percent of its workforce after a failed move into e-commerce. Four-year-old Snapchat, the disappearing-photo app that was valued at about $16 billion this year, said in October it's abandoning its plans to create original content and will eliminate staff. Hootsuite, a Vancouver social media startup, said it cut 20 employees this week.
Smaller startups have had to find places to trim as well, despite having fewer employees to begin with. Reports from the last couple of months have chronicled staff reductions at startups such as CircleBack, Context Relevant, Flipagram, Gumroad, HotelTonight, and Jolla. The moves are often symbolic, rather than out of financial necessity, according to Reid Hoffman, a partner at Greylock Partners. "Part of what a layoff does is to communicate the message to the entire team—say, 'We are really shifting from this to this, and we're playing a new game, and we're in troubled waters, and we need to do something about it,'" Hoffman said.
Bill Gurley, a general partner at Benchmark, has been among the venture capitalists leading the charge recently toward leaner startups. In an August tweet storm, Gurley told his 365,000 Twitter followers that investors would soon value profit over growth. The shift is "slowly" happening, he said in an interview this week. "Now you're seeing some layoffs."
https://twitter.com/bgurley/status/634573025329807360
—With Eric Newcomer, Gerrit De Vynck, and Emily Chang
Before it's here, it's on the Bloomberg Terminal.
LEARN MORE