Hedge Funds Brace for Redemptions
Industry coming off worst third-quarter inflows since 2009

BlueCrest, Och-Ziff among firms that saw withdrawals in 2015
When BlueCrest Capital Management told investors Tuesday it would no longer oversee money for outsiders, one thing founder Michael Platt didn't mention was that clients had already pulled billions of dollars this year.
Platt, who cited client demands and pressure on fees as a reason for his decision, isn't alone in feeling the heat from investors. Firms including Och-Ziff Capital Management Group LLC and Mason Capital Management have seen cash flee this year, and others such as Fortress Investment Group LLC's macro funds business shut down after redemptions and losses.
Hedge fund investors are losing patience even with marquee firms as many of them struggle this year, especially those that offer macro strategies or stock funds heavily weighted to rising shares. Some managers have lost money for two years running, while others such as David Einhorn's Greenlight Capital are suffering declines that rival their worst year. After the weakest third-quarter inflows in six years, the industry could see outflows in the fourth quarter, said investors and bankers who watch the ebb and flow of hedge fund assets.
"The fourth quarter will be flat and possibly negative," said Peter Laurelli, head of research at Evestment Alliance, which tracks hedge fund investments.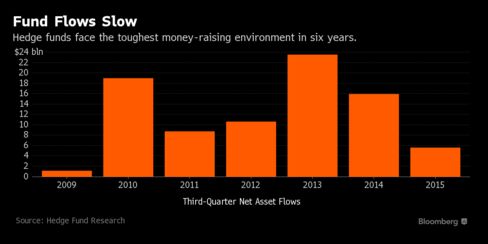 Hedge fund managers got off to a promising start in 2015, outpacing equity benchmarks including the Standard & Poor's 500 Index. The second half of the year has proved more challenging as volatile markets create some of the steepest losses since the 2008 financial crisis for some of the most prominent managers in the business.
Ackman, Einhorn
The $2.87 trillion industry added $45.3 billion in net deposits in the first nine months of the year, according to Hedge Fund Research Inc. Only $5.6 billion came during the three months ended Sept. 30, the lowest third-quarter take since 2009, when a net $1.1 billion was deposited. If no money pours into funds in the current quarter, inflows in 2015 will be at least 40 percent below last year.
Among the most prominent losers in the second half is Bill Ackman, whose Pershing Square Capital Management is down more than 17 percent in 2015 through November. The firm has been hurt by its investment in Valeant Pharmaceuticals International Inc., whose shares have slumped 31 percent this year amid scrutiny over drug prices.
Einhorn's Greenlight Capital has declined 21 percent this year, as positions such as SunEdison Inc., Consol Energy Inc. and Micron Technology Inc soured. Einhorn's worst annual loss was in 2008, when his fund fell 23 percent.
Mason's Slump
Others firms have been losing money for more than a year. Mason Capital, an event-driven fund based in New York, was down about 20 percent from the start of 2014 through this year's third quarter, according to investors. Assets fell to about $5.6 billion from about $9 billion at the end of last year.
Fortress Investment Group LLC said in October it was closing its $2.3 billion macro business run by Michael Novogratz after posting losses for almost two years. Earlier that month, Bain Capital decided to shutter its Absolute Return Capital fund after more than three years of declines.
At BlueCrest, assets have shrunk by more than 40 percent this year to $7.9 billion, mostly from withdrawals after years of lackluster returns in what was once its biggest fund. New Jersey's public pension plan decided to pull $284 million from one international fund as of June 30, citing "disappointing" returns just over a year after adding to its investment.
Hanging On
Och-Ziff, run by Dan Och, saw $4.2 billion leave its $30 billion multistrategy funds in the first nine months of 2015. Its biggest fund is little changed this year. The firm could face more withdrawals in 2016, depending on the outcome of an investigation by the U.S. Justice Department into whether it broke bribery laws in accepting an investment from the Libyan Investment Authority. Och-Ziff has told investors the matter is likely to be resolved next year, according to a person briefed on the matter.
Spokesmen at the firms declined to comment on flows and performance or didn't return calls.
Some firms will be able to hang on to much of their cash regardless of performance. Certain investors in Ackman's Pershing Square Capital Management can only take out one-eighth of their money every quarter, meaning it takes two years to exit completely. At the end of 2014, those restrictions applied to clients accounting for about a third of the firm's $18 billion. About another third was permanent capital from a share sale last year.
Among the biggest winners is Millennium Management, run by Israel Englander. Its hedge fund pulled in a net $4.1 billion, bringing assets to $32.5 billion at the start of November, according to a person familiar with the firm.
Before it's here, it's on the Bloomberg Terminal.
LEARN MORE