Gabelli Says Viacom Should Buy AMC, Sell Studio Stake to Alibaba
Deals would give company capital, access to hit programming

CBS and Viacom shouldn't be recombined, Gabelli says
Mario Gabelli, the largest outside investor in Viacom Inc. voting stock, said the TV and film company should merge with AMC Networks Inc. and sell a piece of its Paramount Pictures division to Chinese Internet billionaire Jack Ma's Alibaba Group Holding Ltd.
A partnership with Ma would give Viacom access to capital and a global view of the entertainment business as the Chinese film market is growing rapidly, Gabelli said Wednesday in a telephone interview. AMC Networks, the programmer behind popular TV fare such as "The Walking Dead," has a good track record of making hits, he said.
"It would be opportunistic to build up their creative content," said Gabelli, who holds shares in AMC Networks through his Gamco Investment Management. "Distribution is important, but content is king."
Gabelli, a prominent media investor, asked via Twitter earlier this week for more information about billionaire Sumner Redstone, 92, who controls Viacom and is fighting a lawsuit over his mental capacity brought by an ex-girlfriend. Redstone, who's founder and chairman of Viacom and CBS Corp., is "mentally capable," Viacom said Wednesday.
Viacom, the parent company of the Nickelodeon and MTV cable TV channels, has tumbled 37 percent this year amid shrinking ad sales and viewer losses. Viacom and CBS, which separated 10 years ago, shouldn't get back together again, said Gabelli, who also holds shares in CBS. His remarks echoed comments made earlier Wednesday by CBS Chief Executive Officer Les Moonves at a breakfast sponsored by Variety.
AMC Networks, which is based in New York and has a market value of about $6 billion, declined to comment, as did Viacom and Alibaba.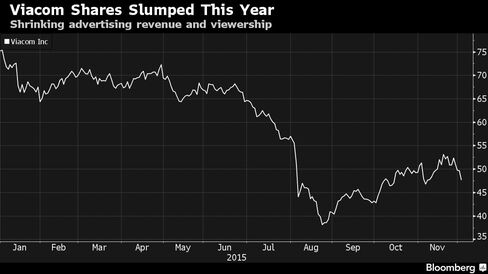 AMC Networks dropped 0.5 percent to $82.81 at 9:30 a.m. in New York, after rising 30 percent this year. Viacom was down 0.2 percent to $47.54.
Redstone's former girlfriend, Manuela Herzer, is suing to be reinstated as his health-care proxy, saying Redstone was incompetent when he removed her from that role in October.
In its statement Wednesday, Viacom said that Redstone is fine, citing his doctors.
"As has been widely and publicly disclosed, Mr. Redstone's physicians have publicly attested that he is mentally capable, and this information is consistent with other medical and other information available to me," William Schwartz, chairman of Viacom's governance and nominating committee, said in an e-mailed statement.
Alibaba's Ma met with Paramount Pictures' chairman Brad Grey last year when Ma was visiting Los Angeles. In June, Alibaba Pictures, an affiliate of the U.S.-listed group, said it agreed to invest in "Mission: Impossible -- Rogue Nation," the fifth film in the spy series. That deal, one of many Paramount said it expected to make, also involved Alibaba selling merchandise and tickets in China.
The deal with Paramount is one of more than a half-dozen in the past year between U.S. studios and Chinese companies including Dalian Wanda Group Co. and Huayi Brothers Media Corp.
Before it's here, it's on the Bloomberg Terminal.
LEARN MORE