Citigroup: The Best Predictor of a U.S. Recession Will Resurface Sooner Than You Might Think
A U.S. recession is more likely than not in 2016, according to some strategists at the bank.
Not much holiday cheer is going around some of Citigroup's research teams.
Chief Economist Willem Buiter's base-case scenario is for a global growth recession in 2016. And according to the bank's G10 rates strategists, the most reliable harbinger of an economic downturn is poised to rear its ugly head in the U.S.
"Curve inversion will likely come more quickly than the consensus thinks," wrote the team, led by Harvinder Sian, global head of G10 rates strategy, referring to the shape of the U.S. Treasury curve as indicated by sovereign debt yields of various maturities.

Such yield curves typically slope upwards, a reflection of the inherent riskiness of lending someone money (in this case, the U.S. government) for a longer period of time as well as expectations that policy rates set by central banks will move higher in the future. Inverted yield curves, however, suggest that market participants believe monetary policy is tight, which will bring about a slowing of the economy and result in monetary stimulus in the form of interest rate cuts from the central bank.
The latter (inverted) shape has historically preceded U.S. recessions, and it is this one that Citigroup strategists think could come about sooner rather than later.
Essentially, the strategists think the U.S. economy is going to become a victim of its own success. If the unemployment rate continues to fall at the same pace it has since 2012, it will breach 4 percent before the end of next year, Citi observed.
"Unless, there is a soft landing, the market will price both front-end hikes but also a major flattening of the curve, to augur higher recession risk," wrote the team. A soft landing, in this context, refers to a situation in which the U.S. unemployment rate settles at a level consistent with an economy that's at a cruising speed but running without an abundance of wage pressures, explained Sian in an interview.
As such, the inversion scenario Citigroup describes entails the Federal Reserve having to hike rates aggressively in the face of a tightening labor market that notably increased inflationary pressures.
History suggests that if the yield on the two-year Treasury rose above the 10-year yield, it's a signal that the American economic expansion is nearing its best-before date: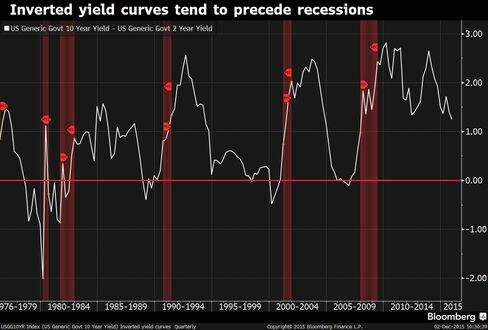 We'd be remiss not to note that the spread between the 10- and two-year U.S. Treasury yields is currently elevated relative to its long-run average. That is, that portion of the curve is steeper, not flatter, than it has usually been since 1975, which suggests that worries about an inverted yield curve may be premature.
Sian and his team write that the cumulative probability of a U.S. recession in 2016 has jumped to 65 percent, based on historical data from advanced economies. The view that a U.S. recession next year is more likely to manifest than not, however, does not quite jibe with the forecasts put forward by Citi's team of U.S. economists.
"We project U.S. domestic demand to rise by close to 3 percent year-over-year in the next three years," wrote Citi economists William Lee, Peter D'Antonio, and Dana Peterson in a separate note. "However, the inclusion of the transitory, but possibly prolonged drag from the external sector yields only a 2.5 percent GDP growth trajectory."
Before it's here, it's on the Bloomberg Terminal.
LEARN MORE