Copper Bears See More Pain as Prices Trade at Lowest Since 2009
Funds are holding the most-bearish wagers since August

Goldman forecasts supply surpluses through at least 2020
Hedge funds are betting there's more pain in store for copper, even with prices trading at the lowest in six years.
Money managers are holding the biggest net-short position in the metal since August. Futures are trading near the lowest since 2009 as economic growth slows to the weakest pace in more than two decades in China, the world's top consumer. Declining industrial profits in the Asian country added to concern that the government still hasn't done enough to spur a rebound.
Mining companies had boosted production after booming growth in China over the last decade sent prices to a record in 2011. With the economy slowing, there is too much supply and Goldman Sachs Group Inc. predicts the metal will remain in surplus through at least 2020.
"It goes back to China," said Quincy Krosby, a market strategist in Newark, New Jersey, at Prudential Financial Inc., which oversees about $1.3 trillion. "The question is when do you see growth picking up or even the suggestion that the economy is going to gain momentum."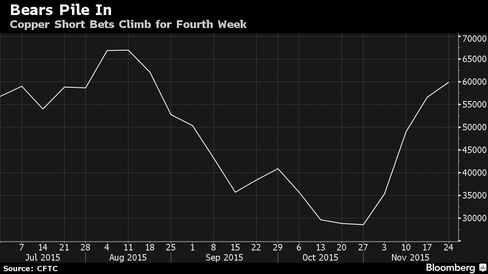 Copper futures dropped 27 percent this year to $2.0665 a pound as of Tuesday on the Comex in New York. Prices fell for seven straight weeks through Nov. 27, the longest slump since June 2013.
The net-short position in Comex futures and options increased to 29,917 contracts in the week ended Nov. 24, according to U.S. Commodity Futures Trading Commission data released Monday. The figures, which were delayed after a U.S. public holiday, compare with 27,827 the prior week. Bearish wagers gained for a fourth week, the longest streak since July.
Prices tumbled 12 percent in November, the biggest monthly drop since January. Goldman predicts the metal will keep falling through next year, with risks "skewed to the downside," analysts said in a Nov. 18 report. Shares of Freeport-McMoRan Inc., the world's top publicly traded copper producer, plunged 31 percent last month amid the rout in commodity prices.
Adding to copper's woes is the outlook for rising U.S. interest rates, which cut the appeal of holding metals as a store of value as the dollar strengthens. San Francisco Fed President John Williams said Nov. 21 that there is a "strong case" for a rate increase in December if U.S. economic data hold up. Policy makers start a two-day meeting on Dec. 15.
Higher Rates
"Higher rates and a higher dollar tend to be negative for copper and commodity prices more generally because it pushes up storage costs and it pushes up financing costs," Sameer Samana, a St. Louis-based global quantitative strategist at Wells Fargo Investment Institute, which oversees $1.7 trillion, said in a telephone interview. "So all those different things make a bad situation worse."
Supply cuts can help to support prices, according to Donald Selkin, who helps manage $3 billion as chief market strategist at National Securities Corp. in New York. Smelters in China agreed to cut output by 350,000 metric tons next year, according to a statement from 10 producers on Tuesday. The amount is equal to about 4.4 percent of the country's annual output, based on figures from the National Bureau of Statistics.
"I'm not bearish at this level," Selkin said. "It's not going to run away on the upside, obviously, because of the China situation and the weakness in the commodity dynamic that we've had. But, I think at this price it's discounted most of the bad news, and it's going to hold at $2 and probably just drift here."
Before it's here, it's on the Bloomberg Terminal.
LEARN MORE