Hayes Poised to Challenge 14-Year Libor Sentence, Conviction
Expedited appeal may have wider implications for Libor trials

Hayes found guilty of manipulating Libor by jury in August
Tom Hayes, the former UBS Group AG trader given a 14 year-prison term for manipulating Libor, returns to court this week to try to persuade the U.K.'s top judge to overturn one of the longest sentences ever issued in Britain for a white-collar crime.
The 36-year-old Hayes's appeal will take place at a two-day hearing starting Tuesday in London. While Hayes is challenging both the August conviction and sentence, the prison term might get more attention from the court.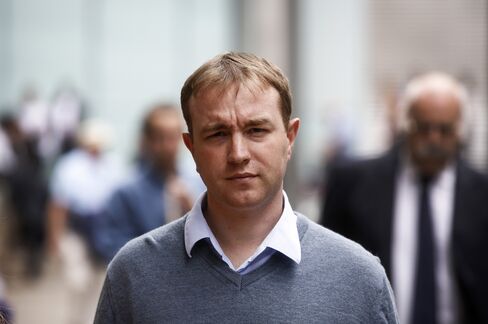 "The length of Hayes's sentence was a surprise to many in the financial-services industry," said Amanda Pinto, a London trial lawyer at 33 Chancery Lane, who specializes in financial crime. "In the past, custodial sentences for white collar crimes have been much shorter. It's really important for confidence in London as a global financial center that this appeal is resolved quickly."
Hayes was the public face of one of the biggest global banking scandals even before he became the first person to go on trial for rigging the London interbank offered rate -- the benchmark used to value more than $350 trillion of financial contracts from mortgages to student loans. A dozen banks and brokerages have been fined about $9 billion for Libor manipulation by regulators around the world.
'Rain Man'
Hayes, who was given the nickname "Rain Man" by colleagues, traded interest-rate derivatives for UBS in Tokyo where, between 2006 and 2009, he earned the bank $300 million. He was then hired by Citigroup Inc. with a $3 million signing bonus, but was fired less than a year later after managers accused him of trying to rig Libor.
A lawyer for Hayes didn't immediately respond to an e-mail seeking comment.
The appeal, coming just about four months after the jury verdict, is being heard on an expedited schedule because of the potential effect on two other Libor-related cases. The Lord Chief Justice, who takes appeals for which the judgment may have significant consequences for high-profile issues, will preside at the hearing.
Criminal convictions and sentences can be overturned only if something went "wrong," such as court procedure not being followed properly, or if new evidence has come to light, according to U.K. government guidance.
82 Hours
After a week of deliberations, jurors unanimously found Hayes guilty on all eight counts of manipulating Libor to benefit his own trading positions. Central to the case was 82 hours of interviews Hayes gave to the U.K. Serious Fraud Office in 2013, during which he detailed his methods.
"Probity and honesty are essential, as is trust. The Libor activities of which you took part in put that in jeopardy," Judge Jeremy Cooke said as he handed down the sentence in August. "A message needs to be sent to the world of banking."
Hayes testified he was "obsessed" with Libor, dreaming about the benchmark, which determined the profitability of virtually all his trades.
Before it's here, it's on the Bloomberg Terminal.
LEARN MORE